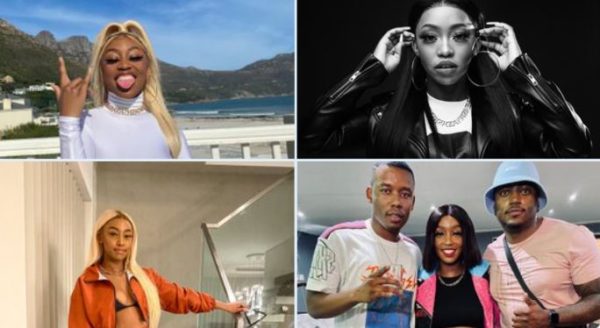 Social media users have voiced out their state of confusion on Kamo Mphela's look.
After merging different photos of the Amapiano dancer, it was assumed that she does a daily facial cosmetic surgery to birth a new look.
The observation kicked off after the singer shared on Twitter a photo of herslef standing between 2 men.
However, reactions to the photo got her deleting the post instantly, as many didn't believe she's the one.
Lots of tweeps found it difficult accepting that it was Kamo in the photo.
Some Twitter users further claimed that her complexion changes from time to time.
She was yellow the other day moos…Kamo Mphela pic.twitter.com/DbtXaCOSyM

— Nkosana (@realsanzaman99) November 11, 2020
Kamo Mphela has so much range 😭 none of us can relate 😫 https://t.co/L4JU3GIle5

— A🙏-R🤝-T👉-P✊-O👌-P✊ (@JeauxCalderone) November 11, 2020
If you know you know -kamo mphela pic.twitter.com/hpnH9pcCLn

— Metse… (@thedaredeviil) November 11, 2020
Bathong is this kamo Mphela, her face is always changing pic.twitter.com/GTrDYHEaXb

— Kea⭐ (@Keamazabane) November 11, 2020
The fact that I don't even know kamo mphela I have no choice but to believe you 🤣🤣

— LUNGISA kaQULU … 🇿🇦 (@phazamisa_22) November 11, 2020
I initially thought kamo Mphela is a yellow pic.twitter.com/JGWa09De9t

— 🔶Yellow 🔶 (@luyanda_keswa) November 11, 2020
Kamo mphela confusing the F outta her nay sayers with her looks…hey ngwano o ba trapa 20 nil nou 😂🤣😂 pic.twitter.com/OREgTJNfIk

— ♓VaalRise Mac-D♓(016) 🇿🇦 (@MacDinobravo) November 11, 2020
Kamo Mphela would win the #5differentlookschallenge shem😂😂 pic.twitter.com/wr9DOFSljV

— KHUNOU_JNR (@TheyoungKHUNOU) November 11, 2020
But who Kamo Mphela? Never been so confused.#asbestos #girlbuyza pic.twitter.com/KycvFIPLNt

— 🧢 (@Germini_Man) November 11, 2020