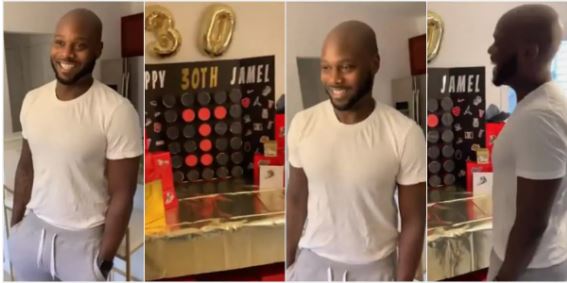 A young lady has decided to show how much she loves her man as she pulled a surprise birthday for him even though it is still a month away.
The man with Twitter handle @TheJamelShow was celebrated on his 30th birthday with 30 presents which he is meant to open daily until all the gifts are opened.
Love is truly a beautiful thing.
In the video shared, the lady captured the moment when her lover walked into the living room to the sight of the many gifts arranged in a corner.
However, there is a board hung on the wall surrounded by different gifts wrapped in boxes.
Thirty cups were attached to the board.
According to the lady, each cup will have to be taken down daily for one gift to be unwrapped, and the man will have to do this for 30 days.
The birthday boy took to his Twitter page to share the video, which he captioned: "The big surprise."
Watch video below:
The big surprise 😦 #birthday #30th #videos #TicTok pic.twitter.com/XuLAcZy7l6

— Follow My Instagram (@TheJamelShow) November 15, 2020