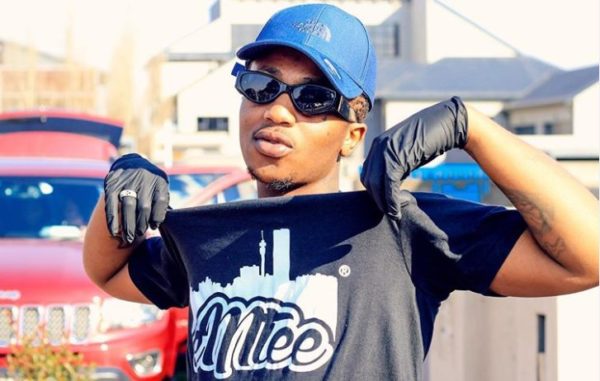 Emtee has taken to his Twitter to defend himself after a video of him being drunk was posted on social media.
This is coming after the star revealed that his baby mama, Nicole abuses him and he is tired of staying with her.
Emtee detailed how the mother of his two children used to attack him, call the police on him and involve her brothers to physically handle the Hustla.
Well, the case is now worsen as they are using the video against him.
The rapper has now shared a screenshot of the message his baby momma sent ordering him to delete the tweets exposing her or she releases a video of him.
The talk went as far as to involve a part of him seeing his sons Avery, 5 and Logan 2.
The tweet says: "Emtee is making false accusations about his wife, she is not abusing him, the problem is his drug abuse, The wife is trying so hard to maintain the marriage but Emtee is messing everything up because of drug abuse. #PrayForEmtee"
Watch video below:
Emtee is making false accusations about his wife, she is not abusing him, the problem is his drug abuse, The wife is trying so hard to maintain the marriage but Emtee is messing everything up because of drug abuse. #PrayForEmtee pic.twitter.com/xwVgVo4sKT

— Man's NOT Barry Roux  (@AdvoBarryRoux) November 18, 2020
Defending himself, the star said: "I wasn't drunk! I don't drink liquor AT ALL That was a 2 litre Fanta Pine. Relax! Might've been high not drunk. I'm glad she posted it cos as you can see in the video I'm very calm and at the end I walked away. I didn't respond or talk back bruh. I tried my best to be mature."
I wasn't drunk! I don't drink liquor AT ALL That was a 2 litre Fanta Pine. Relax! Might've been high not drunk. I'm glad she posted it cos as you can see in the video I'm very calm and at the end I walked away. I didn't respond or talk back bruh. I tried my best to be mature. https://t.co/6d92ZVZX04

— LOGAN (@emteerecords) November 19, 2020