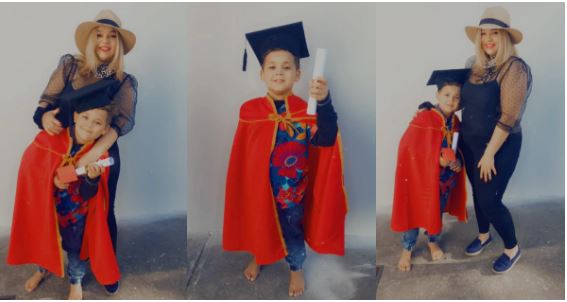 Mzansi woman has taken to her social media to share her story about her little boy who is suffering from autism.
According to her, it has not been a very difficult for her raising her son all by her own.
The woman whose name is Michaela Simone Andrews  stated that being a single parent with a son who has been diagnosed with autism is not a easy one.
She said: "This is my son Elijah, he has higher functioning autism. He was diagnosed at an early age of 2 years old. My son never slept a night through when he was a baby at most he would always get 2hours of sleep a night. That's why by the age of 2 I knew he had a problem"
"As a single mom, nothing was easy, as my son could never go out. Because he was so anxious and malls, shops would give him high anxiety because of all the noises that would overstimulate him. It really wasn't easy. He used to hit, bite me, and drag me down by my hair. When he had a meltdown."
Michaela then explained how she did a ton of research to help him start speaking.
She also took him to see a therapist that soon helped him handle his anxiety which stopped him from getting physical with his mom.
Michaela went on to say: "Elijah started off with being at a special needs school but then later I saw my son was actually so intelligent. He could tell me about almost every dinosaur I pointed at what the name was, what they ate, and an interesting fact about them."
"Now at 5 years old my little boy that's not so little anymore is graduating from daycare and will be going to Grade R next year ♥️ He can speak, his anxiety is a lot less, he doesn't have major meltdowns anymore."