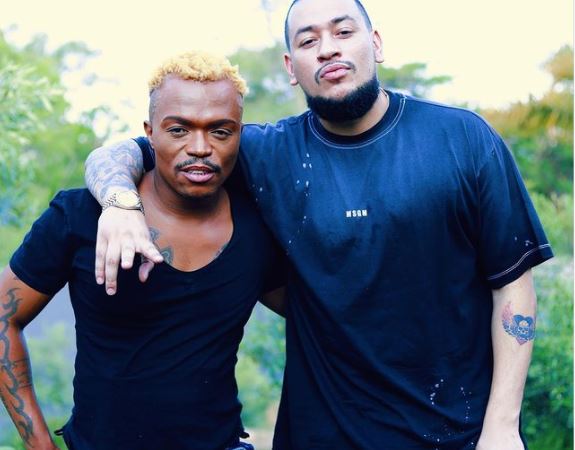 Somizi Mhlongo got social media users frenzy over his presence on AKA's The Braai Show.
On Thursday night, the Radio star graced the show as a guest and he spilled some words and attitude that got viewers talking.
Over the night, Som trended and many mentioned what they observed with his relationship with the rapper.
Some of his words were quoted and it appears that most viewers enjoyed what the two artist served on the show.
Check out Tweeps' reactions below:
You can tell that @somizi has a great sense of humour and it must be nice to be around him#ThebraaishowwithAkA pic.twitter.com/hNfyJPTyf2

— Nkosinati Magwa (@NkosinatiMagwa) December 10, 2020
Somizi always has that energy.#ThebraaishowwithAkA pic.twitter.com/RgIyjx2gTR

— Wise (@wise30152072) December 10, 2020
Legit enjoyed today's #ThebraaishowwithAkA with AKA and Somizi. Good meat 🍖 🍗 Good banter conversation flowing and the vibe was just right. 🔥 pic.twitter.com/qTFiMn5OxE

— Lwazi Msomi (@RealLwaziMsomi) December 10, 2020
I really want money to love me like it loves Somizi. #ThebraaishowwithAkA pic.twitter.com/nE3GGa0MXG

— Lwazi Msomi (@RealLwaziMsomi) December 10, 2020
Enhlek Somizi is a Vibe at Chillas situations. 😂😂😂😂😂😂😂😂😂😂 #ThebraaishowwithAkA pic.twitter.com/zJ0fl0LpqU

— Lwazi Msomi (@RealLwaziMsomi) December 10, 2020
#ThebraaishowwithAkA at some point that girl stopped being friends with Somizi..after spilling beans about her and AKA shagging ….now AKA and Somizi braaing together…. pic.twitter.com/LppAQFmoFi

— SizaM (@MtakaJesu) December 10, 2020
Many people are watching the show tonight…..Somizi makes the pots to be done.#ThebraaishowwithAkA pic.twitter.com/n27tJT1nYQ

— Cilea Kunutu (@MrsMagongwa) December 10, 2020
#ThebraaishowwithAkA Dankie somizi i learned something today @somizi

— Lenard mazibe (@lenard_mazibe) December 10, 2020