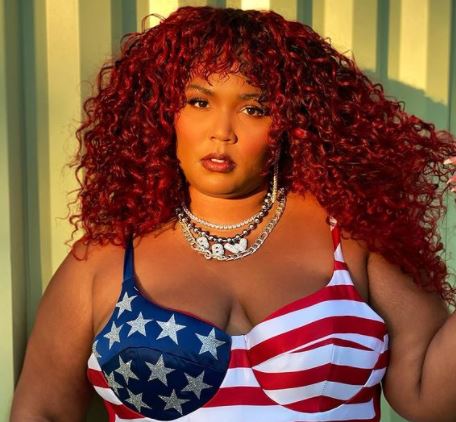 American Singer, Lizzo has taken to her social media to defend herself after she was dragged for promoting and supporting the diet culture.
The star has always being a plus-sized woman and she has never for one hide herself from the world.
Lizzo always tell her fans to embrace their body no matter their sizes.
However, the singer was dragged out for now talking about weight loss.
Being a fuller female herself, this is the last thing fans ever expected from her.
After seeing all the backlash she received for doing a juicing detox, Lizzo took to social media to defend herself and so did some of her fans.
Initially, she has being body shamed severally for being too big and now she wants to work on herself but people began to drag her again.
"My sleep has improved (and), my hydration, my mental stability, my skin"."Every big girl should do whatever the fuck they want to with THEIR bodies." – Lizzo Thank you @lizzo for being an inspiration. Thank you for your music and flawless talent. You do you Queen! #lizzo."
"My sleep has improved (and), my hydration, my mental stability, my skin".

"Every big girl should do whatever the fuck they want to with THEIR bodies." – Lizzo

Thank you @lizzo for being an inspiration. Thank you for your music and flawless talent. You do you Queen! #lizzo pic.twitter.com/Ws8WGpfMDp

— Nick Ryan (@_nickryan_) December 15, 2020
See reactions of fans:
So, let y'all tell it @lizzo can't be fat, so she changes her diet. Now, she can't be skinny! Damn, can she just be HAPPY?! However SHE defines it. #yallareannoying

— LaTonya Foster (@GirlGoneBoss) December 15, 2020
this blowin up YES i have a soundcloud please feed my stats thanks link in bio pic.twitter.com/sCafuD6jH6

— juunn (@junosharpie) December 14, 2020
TW: eating disorders
Lizzo can make any choice she wants for her own body but promoting disordered eating on her social media is irresponsible. Detoxes/dieting IS disordered eating. Her posts could be very harmful for people with eating disorders or in recovery.

— Mel Ciavucco (@MCiavucco) December 15, 2020