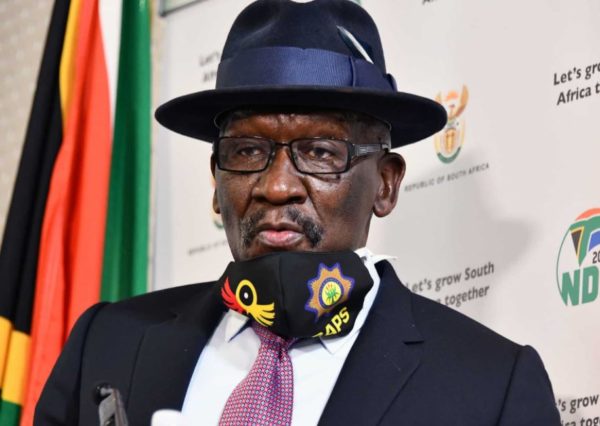 Bheki Cele trends on social media for over 24 hours due to his command to South Africans as regards December 31st, 2020.
In the video, the SA Minister of Police said there is no December 31st for anyone, due to the nation's return to level 3 of the lockdown.
He further said that everyone must be in bed by 9pm of that day.
There is no December 31st. There won't be any hitting of tins here. By 9 o'clock everyone should be in bed. So it is important to note that for that to happen we [SAPS] need to monitor that," he said.
This message didn't sit well with lots of people, and they've taken to social media to spill out their reactions to the video which has now gone viral on the socials.
Bheki has been called out by South Africans over the abuse of power.
Bheki Cele must think he pays the bills in my house 🤣😂😂 pic.twitter.com/jBE43Rr8EV

— XHOSA WITH SOME POWERS 😎® (@its_YZee) December 30, 2020
Bheki Cele when addressing alcohol vs GBV against women and children pic.twitter.com/YCuxED1ADI

— Jobe Alexander ™ (@AlexSithole) December 30, 2020
What I hate the most about Bheki Cele is his language usage. He's always addressing the black people. He's not addressing the nation in his rants. He sees a black person as the one who breaks the Covid19 laws.

— Portia Gumede (@portiagumedesa) December 30, 2020
In my opinion, Bheki Cele is a really bad Minister 🥺

— Masego (@Masego) December 30, 2020
They literally unbanned alcohol and Bheki Cele disappeared into thin air.

Alcohol banned again and he's suddenly the most visible minister on earth 🥲

— S. (@SollyHlaka) December 30, 2020
Imagine if Bheki Cele was president! pic.twitter.com/0LZECiWWlv

— Male Alpha (@thami_tzz) December 30, 2020
Not Bheki Cele saying we should be in bed by 9 pm uya hlanya lo pic.twitter.com/KQgSdA98bq

— C A R G O (@Ntandokhanyile7) December 30, 2020
We understand the curfew, but ordering us to sleep at 21h00 is disrespectful. We are not Bheki Cele's children. Voetsek. Abuse of power. #southafricancoronavirus

— #MrShabangu (@lesma_waza) December 30, 2020