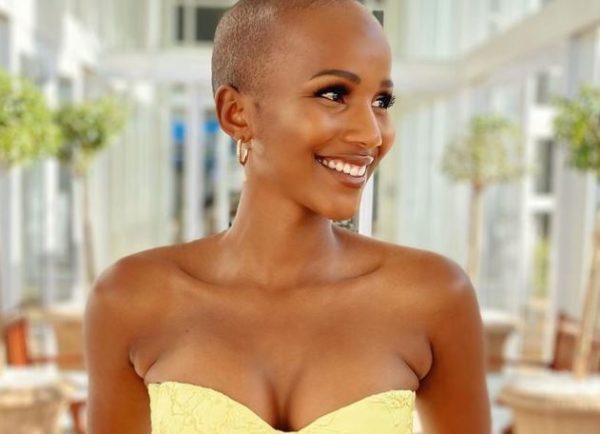 Shudufhadzo Musida has landed herself into hot water after she shared a picture of herself in a bikini.
The star who was recently crowned Miss SA 2020 has found herself in one issue or the other.
Well, this time around, tweeps and social media users are angry with the fact that she is not doing her assigned work.
Many found it really offensive for her to be seeing her nudes to the world instead of advising the youths and work on the development of the country.
As so many kept on dragging her, some saw nothing wrong with her showing off some parts of her body.
Shudufhadzo is currently trending on Twitter as many shared their views on the issue.
See reactions from fans:
Guys Fix YOURSELVES!!! Miss SA posts a pic, YOU decide to focus on the wrong thing Then say she is somehow being immoral? Njani? Soka! The hate from these other tribes who think everything should be about them.🤢🤮🤧 Akho nude here. Just a woman in a swimsuit. pic.twitter.com/wsVQ6GNiE6

— Mama Bear (@fifi_modipane) January 19, 2021
Our new Miss SA is always walking around sandton mall half naked.

— Man's NOT Barry Roux  (@AdvoBarryRoux) January 19, 2021
Honestly speaking why should Miss SA motivate us? Sonke la sibadala, let's motivate ourselves pic.twitter.com/WJCIrdVikp

— BlackLoneWolf (@JabaMogomotsi) January 19, 2021
So y'all say this what South African expect Miss SA to do… VS what Miss SA is doing.. 🤣🤣🤣 pic.twitter.com/KckZm75f84

— ChrisExcel (@ChrisExcel102) January 19, 2021
The hate towards the current Miss SA all stems from tribalism. You hate her because she's not from the so called "dominant" tribes, that's why. But of course you'll deny it. You're no different from a racist. pic.twitter.com/SErluWyrzS

— Neo (@BrownBoyNeo) January 19, 2021
It's summer and y'all been complaining about it being hot. Even us with ugly bodies take tops off when it gets darker in the evening. Let's wait and see if Miss SA will take bikini picz in winter. it's been a hot summer and we also want to be naked, we don't have the bodies.

— Member of the Cult (@Sbu_Fo) January 19, 2021
it' so unfair to say that our new Miss SA is always walking half naked in a mall without showing a video of her or a pic to back your claim, otherwise this is just to discredit her unnecessary

— Community Internet (@boilwater01) January 19, 2021
See post below:
View this post on Instagram