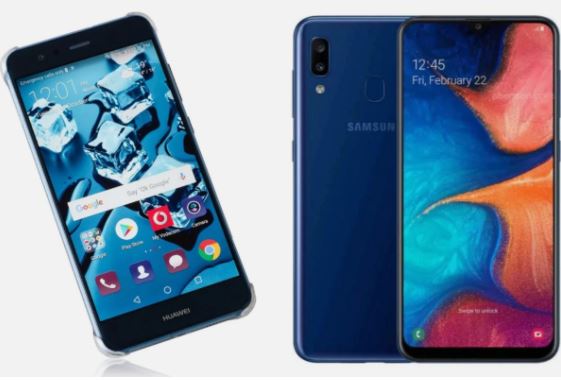 Do you need the cheapest smartphone in South Africa? Such phones are now a popular choice for middle to lower-income earners.
The need to stay connected means that one has to own a cellphone. You may have seen that most of the gadgets being advertised are expensive and cannot be afforded by a majority of the people of Mzansi.
Affordable devices mean that people no longer have to dig deep in their pockets to acquire one.
There are many cheap phones with WhatsApp South Africa, a popular communication app. You can also access the internet with most of the affordable devices available. Read on to know which phones will not stress you financially.
1. Huawei Y7 2019
The device has a simple and elegant design with a high-quality camera. It has 3GB RAM and 32GB ROM, which means you can be able to run multiple apps, including WhatsApp. It also supports up to 512 GB MicroSD card, thus more storage for you. You get it at around R2,999.
2. Huawei P8 lite 2017
It has an ideal memory of 16GB ROM and 3GB RAM. You can purchase this gadget at around R2,999 in any mobile dealer in Mzansi.
3. Samsung Galaxy A20
This one goes for as low as R2,999. With 32 GB ROM, you can install WhatsApp and other apps. It has a high-quality dual camera, which is ideal for selfie lovers.
4. Samsung Galaxy Tab E 9.6"
It has a sleek design and a 5MP rear camera that has advanced features for the best pictures. It has a memory of 8GB and a microSD card storage of up to 128GB. You can purchase this device at around R2,999.
5. Huawei Y5 Lite
This device has 16BG ROM that can support WhatsApp and other apps. It has a front and rear camera of 5MP and 13MP, respectively. You can only use one sim. It goes for approximately R1,299 at leading cellphone dealers.
6. Vodacom Aspire5
This is an excellent gadget with 16GB, which enables you to store various items on the phone. You can find it at around R479 in major shops in South Africa.
7. Vodacom Kicka 6
This is a superior Vodacom brand. It has a memory of 1GB RAM and 8GB ROM. Other crucial features include a rear and front camera, each with 5MP and a battery of 2500mAh. It has a pocket-friendly price of around R769 here in Mzansi.
8. Hisense U962
This brand of Hisense phone has 1GB RAM and 8GB internal memory. It also has a front and rear camera of 2MP and 5MP, respectively, with dual sim feature. It goes for around R599 in leading shops.
9. Nokia 1LTE
This is among the best budget phones you can find in South Africa. You only need approximately R799 to acquire one. The device has 1GB ROM and 16GB RAM with a 2150mAh battery. For those who love photos, it has a rear ad front camera of 5MP and 2MP respectively.
10. Hisense T5
This Hisense brand has superior performance with 1GB RAM and 16GB internal memory. It also has a front and rear camera feature of 5MP and 13MP, respectively. Its battery of 2200mAh can hold power for a long time. This gadget costs around R999 in leading mobile shops in the country.