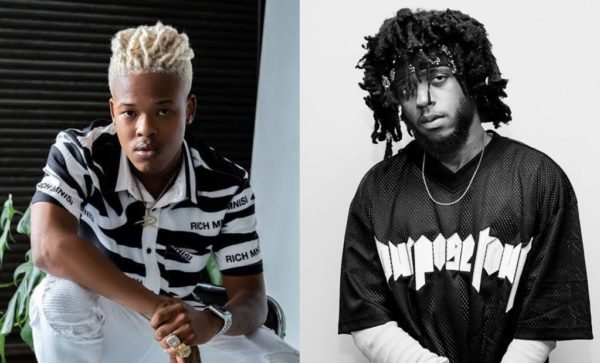 Nasty C will be dropping a single featuring American rapper, 6lack, and South Africans have loose their chill over the information.
The South African rapper has collaborated with big international stars like T.I, Ari Lennox, DJ Whoo Kid and a few others.
He is also signed to an international label, Def Jam Recordings.
However, Mzansi hails and crown him king on social media over the forthcoming single with the American rapper.
Nasty C @Nasty_CSA 🇿🇦 Got A Collabo With 6Black @6LACK🇺🇸 In The Vault 🚨 #ZMWSP pic.twitter.com/XPqxJvHzEZ

— THE PLVG MUSIQ (@ThePlvgMag) February 20, 2021
If Nasty C got a song with 6lack on the way then I'm here for it.

— Views is a classic (@DMEJunior1) February 20, 2021
Nasty C in 2021:

– Featured on the Coming 2 American soundtrack
– Dropped Black and White music video with Ari Lennox
– Has an upcoming collaboration with 6lack

This guy is making things happen 🔥💯 pic.twitter.com/tcXmugrZO1

— Azee (@TheRealAzee_RSA) February 20, 2021
I'm here for the Nasty C & 6lack collabo rumors pic.twitter.com/cfPZ7AapvD

— イブラヒム (@mizar_za) February 20, 2021
Nasty c is currently the best and biggest rapper in Africa

— sane joker 🤡😈 (@Justtimmy5) February 19, 2021
Nasty C confirmed collaborations from @6LACK & @pnbrock in 2021💪🔥🇺🇸⚔️🇿🇦 AFRICA TO THE WORLD!!! #ZuluManWithSomePower pic.twitter.com/EzhYbnsC3x

— 𝐓𝐞𝐚𝐦 𝐂𝐳𝐳𝐥𝐞. (@CzzleTeam) February 19, 2021
.@6LACK & Nasty C now following each other 🔥 let's hope & pray this that moment 🖤🙏 really NEEED that song. pic.twitter.com/QWQLvxL7a2

— Tall Racks RecordsTeam. (@TeamTallRacks) February 17, 2021
Just in case you don't know who 6lack is, read below for some details about him.
He initially gained notable recognition following the release of his single, "Prblms", taken from his debut album, Free 6lack, which was released in November 2016. The American rapper has bagged series of Grammy nomination also.