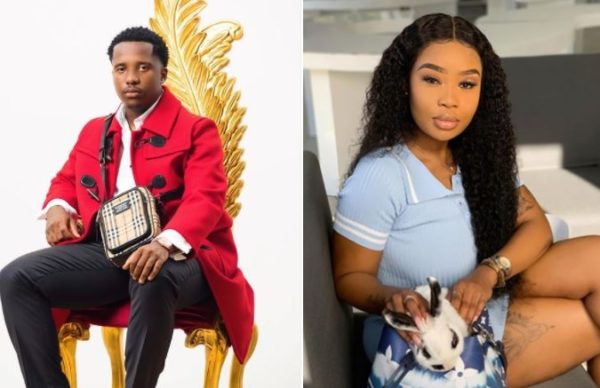 20-year-old Andile Mpisane trends on social media, as South Africans are shocked at the age difference between athlethe and his baby mama, who is his girlfriend, Sithelo Shozi.
Twitter people are divided; as some persons saw no big deal in it, others condemned Sithelo who is 27-year-old for dating the young man since he was in his teenage age.
Andile also became a baby daddy at age 19. Some analyst said when the billionaire son was 17, his baby mama was 20. Hence, they perceived the wrong in the relationship, calling the lady a pedophile.
A few others called for the fall of the baby mama, as it's believed that she's the one to be faulted.
Check out reactions below:
I hope history remembers Andile as a victim.

— Nonto (@nonto_ngwenya) March 16, 2021
Maphorisa was called names when he was dating 18-19 yr old girlies

Now that Sithelo is doing she started dates Andile when he was 17 and she got pregy when Andile was 19 yrs it's okay for women

South African Women with Double standards 🤦🤦🤦🤦 https://t.co/2Lsus0b3zZ pic.twitter.com/nhVEP16DLl

— TeeKay ® (@thandekakay) March 16, 2021
Andile is an adult thou, he was never a child in this 🤔

— Sonwabile Spayidile (@sosospay) March 16, 2021
If Andile ask any of them out dey will pull their penties down in a sec 4getting his a "teenager" ndlela le bayithanda ngayo imali. Dnt get me wrong Im against adults exploiting kids but them calling Sithelo out its not bcz they concerned its out of jealousy dat she got the bag.

— Feminist Destroyer (@luyanda_loo) March 16, 2021
Whats happening is a clear indication of a society that has lost its morals Sithelo and Andile pic.twitter.com/UDsPoAA2wq

— Phumlani Maluleka (@PhumlaniMalule4) March 16, 2021
If it was up to them ,they could have had Andile to themselves pic.twitter.com/nnYgMpIbTv

— Lindokuhlenzuza (@Lindokuhlenzuz7) March 16, 2021
src="https://platform.twitter.com/widgets.js" charset="utf-8">