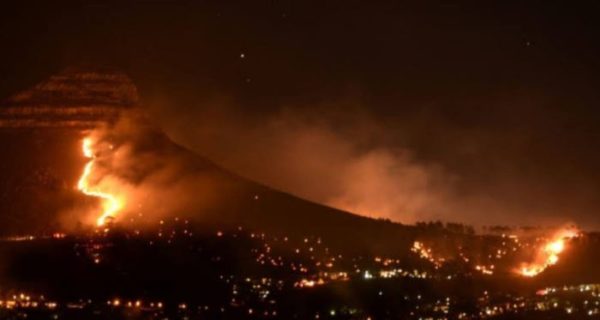 A 35-year-old man has been reportedly arrested in connection to Cape Town fire, following investigation that revealed that some of the fires weren't natural.
Police say the man was caught in Phillip Kgosana Drive on Sunday night in the vicinity where the blaze broke out.
"There is a lot of speculation about additional fires that were started, and whether the original fire was an act of arson. This will form part of investigations, but the city can confirm one suspect in his 30s was taken into custody last night in the vicinity of Devil's Peak," mayoral committee member for safety and security JP Smith revealed on Monday.
Table Mountain National Park's Philip Prins revealed that it wasn't an accidental occurrence.
"Some of the crews are going to work a bit later and then be replaced with other crews. The area where we stand now is where another fire started over an hour ago above De Waal Drive. There are three areas burning, and this was definitely started deliberately. We had to pull resources from the other fire and with assistance of the City we just contained these three areas," he said.
"This fire is definitely not an extension of the other fire, it's too far away. It's dead quiet, and there is no wind so it couldn't be 'spotting' or anything like that. This was definitely a new fire and was definitely started deliberately."
The fire has caused damage to buildings at the University of Cape Town (UCT) and forced evacuations in the Vredehoek area.
Meanwhile, Ward Councillor Nicole Jewell shared on Facebook that witnesses had told police that they had seen three people trying to deliberately stoke the blaze late on Sunday night.
"Unbelievable. Three arsonist witnessed starting there separate fires on Philip Kgosana drive. Seen by witnesses and running away. About 30 minutes ago," she said, adding that fire service are on the scene but are "stretched beyond limits".