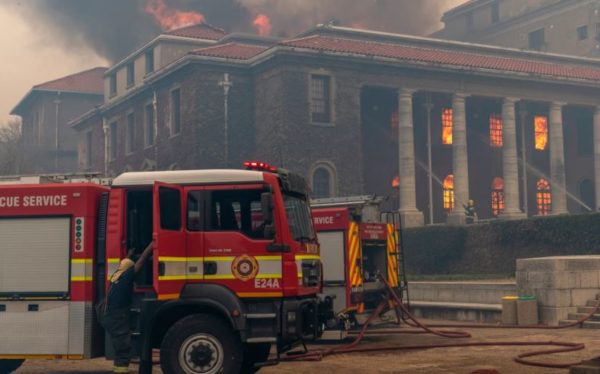 Over 100 firefighters with 4 helicopters are used to fight against the huge fire outbreak in Cape Town, South Africa.
According to reports, wildfire raging on the slopes of Cape Town's Table Mountain spread to the University of Cape Town, burning the historic campus library and forcing the evacuation of students on Sunday.
An "out of control" fire is burning in Cape Town's Table Mountain National Park, damaging buildings and prompting the evacuation of hikers from the city's most famous landmark, South African officials said Sunday.
South African National Parks said firefighters were alerted at 09:00 local time (07:00 GMT) on Sunday. The flames spread quickly because of the low humidity and dry bush.
The fire created its own wind further increasing the rate of spread, it added, estimating that firefighters would need at least three days to control the blaze.
It's also been reported that two fire fighters have lost their lives in the process of quenching the fire.
The historic Mostert's Mill also got burnt.
Check out photos below: