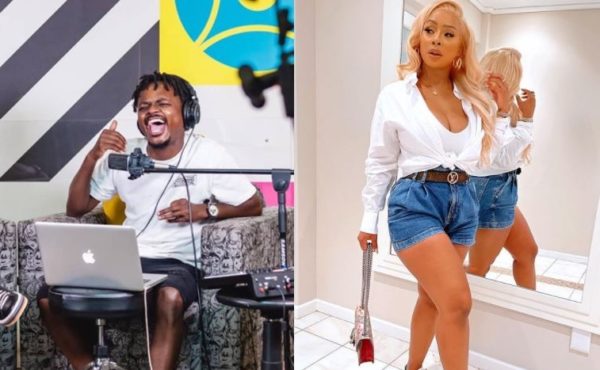 Mac G garners South Africans attention with his statement about Boity on the latest episode of his podcast.
The had 2 guests on the show; Nota Baloyi and Sol Phenduka.
Mac played the Smash, Kiss and Kill game using Bonang Matheba, Boity Thulo and Thando Thabethe.
Sol Phenduka easily said he would marry Boity, smash Bonang and Kill Thando Thabethe.
Mac G said he will marry Bonang, but he got confused on what to choose for Boity and Thabethe. Later, he said he can't pick Boity because "everyone has f***k Boity."
The clip where he said this went viral on social media, and while some cancelled him for making such distasteful statement, others supported him, claimed the rapper once called Twitter users roaches.
In case you wondering why Boity and MacG are trending…… pic.twitter.com/7rMUeaW2F1

— Tsakane🥰 (@tsakihyp) April 20, 2021
There's freedom of speech and there's disrespect, that MacG comment on Boity was out of line. Mad disrespectful.

That guy needs to respect himself and other people for people to respect him.

— Mnisi But Not Rich (@MnisiJulius) April 19, 2021
MacG was definitely out of line for making that Boity comment, mara i will never stop watching that podcast pic.twitter.com/6hlkNL5MIK

— m i h l a l i (@officialmihlali) April 19, 2021
Kana Boity once addressed yall as "roaches"….now MacG fired a single shot and thee "Roaches" are off to defend Boity🤣🤣🤣🤣🤣🤣🤣🤣 thats more than double standards pic.twitter.com/UxEXJVzLaI

— knife-edge follower (@elton_newton) April 19, 2021
Black twitter : Lets cancel MacG.

Me : pic.twitter.com/OCTcgOODJ9

— 4ni🇮🇹 (@4ni_Foni) April 19, 2021
Just cancel MacG if you want to, but don't involve us. pic.twitter.com/dGXvsPJpKG

— King of Missionary 🇿🇦🇰🇪 (@just_vibesjeh) April 19, 2021