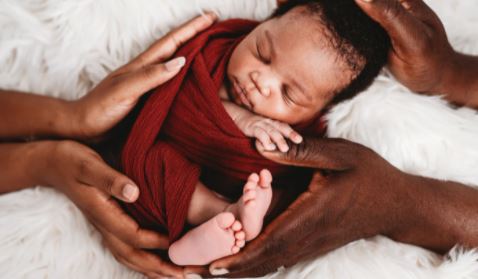 Naming a child is beautiful, and some parents give it deep thought before coming to a conclusion on what name to give a child.
However, there a lot of things that influences the name a child bear. It could be the events surrounding the birth of the child, it could be the influence of the parents' tradition.
In most cases, the meanings are more important than the names, as they reflect an emotion, time or event, which may be significant to the parents.
The real beauty of African names lies in the variety of languages. So, today we'll look at 30 of the best Zulu baby names for boys and girls. Keep reading!
Zulu names for boys:
1. Bonginkosi
If you are not afraid of experimenting with your boy's name, call him Bonginkosi, a Zulu baby boy name, meaning 'thank the Lord.' You are free to shorten it to Bongo for the nickname.
2. Kagiso
If you want your son to walk on the path of amity and harmony right from the start, name him Kagiso, which means 'peace.'
3. Bhekizizwe
Here's another fancy Zulu boy name, meaning 'looking after the nations.' This moniker sounds a lot like a heavy metal guitarist's stage name, isn't it?
4. Bhekumbuso
If you want a rare Zulu name for your son, pick Bhekumbuso. It might be difficult to spell or pronounce, but it will ensure that your child stands out from the crowd. Bhekumbuso means 'looking after the dominion.'
5. Shaka
Shaka is the name of the Zulu tribal leader, who is compared with Attila, the Hun. He is credited with shaping an amalgamation of tribes in the Zulu nation in the 19th century.
6. Funani
Funani is one of the underused Zulu names, meaning 'search' or 'want.' This name is actually the plural imperative form of funa.
7. Kgabu
Kgabu is an African and Zulu name and means 'to decorate richly.' This snappy name is currently neglected in this tribe. So use it for your son before it becomes too familiar.
8. Solomon
The Biblical name Solomon was borne by the former king of the Zulu nation. In the Old Testament, it was the name of the third King of Israel. It means 'peace.'
9. Gatsha
If you want a nature inspired Zulu name for your son, go with Gatsha. It's derived from the Zulu word igatsha and means 'branch.'
10. Langa
This one's for the lovers of astronomy. Langa is a Zulu word for 'sun' and is used widely for African baby boys. This moniker conjures up all kinds of positive meanings- lightness, brightness, renewal and rebirth.
11. Phila
Phila is a Zulu name, meaning 'get well' or 'live.' This moniker is not restricted to Zulu alone. Phila is also an English name derived from the Greek word Phileo and means 'loving.'
12. Msizi
This moniker stems from the Zulu word umsizi, meaning 'helper.'
13. Nkosiyabo
Nkosiyabo, meaning 'the king' is usually given by parents believing that their children will excel. Your child is guaranteed to be unique among the class of chubby kindergarteners.
14. Linda
Linda is quite popular in American and European countries as a baby girl name. But in Zulu, this moniker is used for boys and means 'wait'. Even this name is also the singular imperative form of linda.
15. Mpilo
This one's for people who want a break from conventional 'o' ending names like Milo or Marco. Mpilo means 'life' in the Zulu language. Whether you pronounce it as Mpilo or Milo, this one will signal the arrival of a little star.
Zulu names for girls:
16. Ayanda
Ayanda is a Zulu baby name, meaning 'they augment.' This name sounds endearing, particularly when you think you have added a new member to your family.
17. Uluthando
This unisex name means 'he is love' for boys and 'she is love' for girls. Any child with this name is sure to be loved by everyone.
18. Nofoto
Nofoto is a Zulu baby name, meaning 'like her grandmother.' You would be giving one of the greatest gifts to your mother or mother in law by bestowing this name on your daughter.
19. Yibanathi
Yibanathi is both Xhosa and Zulu name, meaning 'be with us.' This name conveys a tomboy coolness, but we're sure it will age nicely into "Dear Yibanathi".
20. Thadie
Movie over Sadie and Maggie. The time is now ripe for Thadie, a Zulu baby girl name, meaning 'loved one.' This cute name has started showing up beyond the borders of its country as well.
21. Ulwazi
Here's another Zulu word name, meaning 'knowledge.' This cute name would make a good pick for parents who want a no-nonsense name for their daughter.
22. Lerato
Is there any emotion more beautiful than love? No! So welcome the little one in your life with this simple, yet pretty name, Lerato, which mean 'love.'
23. Amahle
Amahle is a rhythmic Zulu name, meaning 'beautiful one.' It's highly unlikely you will find this name outside the Zulu community. So pick it up for your daughter, now!
24. Khulekani
This unique name, meaning 'salute,' has struck a cord with hundreds of Zulu parents. In fact, it grew significantly over the last decade.
25. Jabulile
The meaning of this Zulu name is 'be cheerful, be happy'. Cute, isn't it? But could be a bit exotic for an average English parent's liking.
26. Mthunzi
Mthunzi is a classic name with a modern day feel. We doubt that it would ever go out of style. This name means 'shade.'
27. Sindisiwe
Sindisiwe is a modern and sweet name, meaning 'saved.' And the vowel ending makes it look and sound even better.
28. Inyoni
Inyoni is an out and out feminine name, meaning 'bird.' This name has shown a remarkable growth in baby name charts of late.
29. Ntombizodwa
Ntombizodwa is a quirky three syllable name derived from the Zulu word Ntombi. It means 'lady'.
30. Zobuhle
Zobuhle might be unpretentious and low-key, but it's definitely a darling of the name. It means 'lady of beauty'.