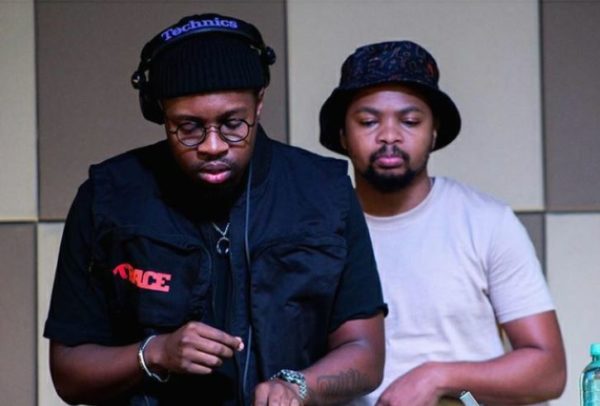 Josiah de Disciple and Mr JazziQ trends following the release Spirit Of Makoela Vol. 2 (The Reintroduction) album by Josiah.
The two Amapiano music producers are known to be in the same group named, JazziDisciples', however, things seem to have gone sour between them, as they've been doing solo production of songs.
Last week Friday, JazziQ released his album, Party With The English, but he got cancelled for the work, as they said he dropped a disappointing project.
Josiah is said to have saved Amapiano genre with his latest album release this Friday.
South Africans then shamed Jazziq, saying Josiah's album proved that Jazziq is the weak one among the two.
Even Josiah's response on Twitter revealed that the two are not on good term. This takes us to a publication by Ubetoo, that revealed last year that the two have parted ways in August 2020.
Check out Mzansi reactions below:
Josiah De Disciple was the main man in that duo.

— Nhlamulo (@_Soulic) April 29, 2021
I love both Josiah and Jazzi but the way Jazzi's input is being downplayed doesn't sit well with me. Mjita may not be the greatest producer but Josiah can't recreate the magic of JazziDisciples without Jazzi and vice versa and that's because they both played their roles well.

— Lesilo Rula (@kay_mahapa) April 30, 2021
Josiah might have just saved Amapiano 🤌🏾😳

— Di Helleng 2.0 (@Todi_M2) April 30, 2021
Everytime JazziQ releases a hit, you guys bring Josiah into it, claiming he didn't work. Then Umsebenzi Wethu was released, dissing Josiah in it and you clowned Josiah all day. Today he finally defends himself with one line and the same people are condemning him?! Please! pic.twitter.com/Re6aO9ShHy

— Ms Party 🏳️‍🌈 (@Olwee) April 30, 2021
Come on, you can't provoke someone and expect them to keep quiet for long. Josiah had young gents who've barely sneezed their way into the industry taking shots at him! Do you understand who Josiah is? He's one of the main reasons why we even have Amapiano! https://t.co/958Jo411IJ

— Tshepo Ranko (@Tshepo_Ranko) April 30, 2021
Josiah's back after carrying Jazzidisciples for 2 years pic.twitter.com/GIob2MBxpr

— Vusi.mz (@VusiMzobe) April 30, 2021
Josiah de disciple was Jazzideciples

— 4D Tha God (@4DThaLord) April 30, 2021