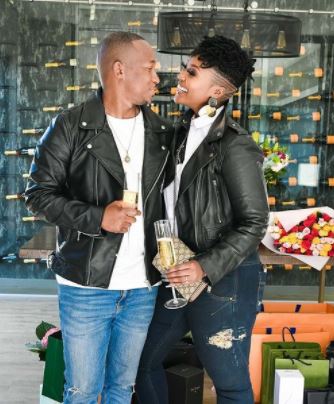 Lamiez Holworthy had a beautiful birthday celebration and it is a memorable one for her.
The star turned 29 and she celebrated it with 29 gifts.
Khuli Chana on the other hand tried his best to put together a celebration that'll forever live in her heart.
The birthday girl took to social media to show off her flashy gifts.
Seeing that she was turning 29-years-old, Khuli got her 29 gifts.
Bags of Louis Vuitton, Dolce & Gabbana, Maxhosa, Thula Sindi can be seen lying all over the floor.
There was also a bouquet and fancy balloons in the picture frame.
In a recent post, Lamiez stated that her man surprised her with a trip to a place she has always dreamt of going.
She mentioned that she has decided to stay 29 forever.
Lamiez said: "Not this man surprising me with a trip to a place I've ALWAYS dreamt of going to. That along with EVERY gift I've always wanted? 🙆🏾‍♀️Like after yesterday? Ke sharp ka Di birthday okay.So I've decided that I am going to stay 29 forever."
See post below:
View this post on Instagram
View this post on Instagram