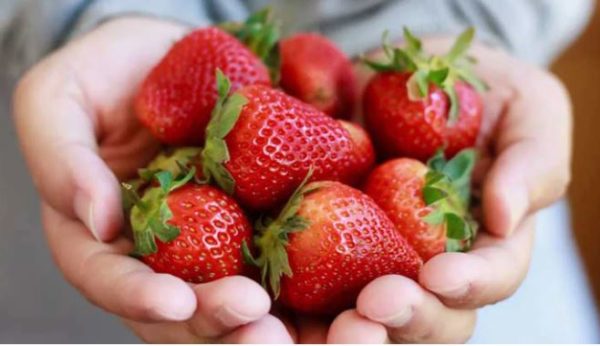 Fruits have innumerable benefits when it comes to
skin care
. While eating them is beneficial, applying them as scrub, mask or facial has remarkable effects on any skin type.
One of the most effective fruits one can find in an orchard is the luscious red wonder berry — strawberry.
Delectable and yummy, it is a favourite of both grown-ups and kids. If used regularly, strawberries can work wonders in giving your face a shine and healthy glow.
Here are a few ways you can use strawberries in your daily beauty regime.
1. Boost your complexion
Beauticians have found out that the juice of this berry can help in skin lightening and also cures blemishes and acne marks effectively. Mash three to four strawberries in a bowl and filter the juice with a clean muslin cloth. Apply the juice all over the face. Leave it on for 20 minutes and wash off with cold water. Use this mask thrice a week to reap the best benefits. It also reduces sun damage and minimizes the effects of ultraviolet rays on the skin.
2. Treat acne
Mix half a cup of sliced strawberries with a spoon of sour cream. Mix it well. Apply the mixture as a mask and leave it on for 10 minutes. Since this berry has cleansing properties and contains salicylic acid, it helps in removing dead cells from the skin. It also tightens the pores and prevents further break outs. Strawberries have been hailed for their effectiveness in removing impurities and are thus, used in a lot of face washes as an active ingredient.
3. A great toner
Grind a handful of strawberries and extract the juice. Add two tablespoon of this juice to 100 ml of cold rose water. Apply it with a cotton ball all over your face before going to bed. This is a great toner for every skin type. For best results, do it daily and do not follow it with any night cream. The best thing about this homemade mix is that you can store it for 15 days in the refrigerator.
4. A strawberry scrub for a youthful skin
Take five to six strawberries and add two tablespoon of honey to the mixture. Mash the strawberries in a way that the seeds remain. Do not do away with the seeds. Add around three drops of warm water to the mixture. Massage your skin with the mixture for 10 minutes in circular and semi-circular motion. Then wash off with cold water. If done thrice a week, this scrub results in a youthful and glowing skin.
Two great ingredients come together to gift you flawless skin. Take three strawberries and add seven spoons of milk. Crush them in a blender and use the mixture on your face as a mask first thing in the morning. You will not need any cream to pull you through the day. An easy-to-do mask, this is helpful for people with a dull and tired-looking skin.