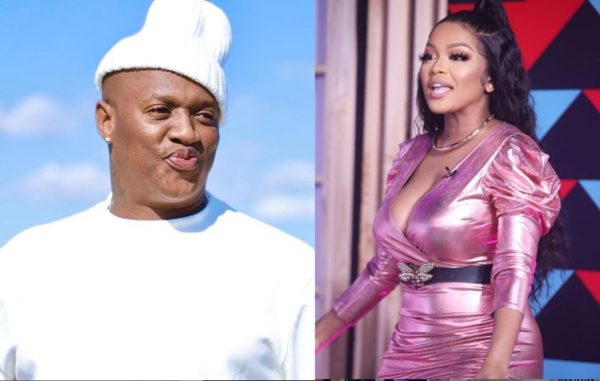 Jub Jub joins list of celebrities who reacted to the looting of supermarkets in South Africa, but he got schooled by Lerato Kganyago, which didn't later end well for the award-winning TV presenter.
Jub went Live with fans and poured out his heart as regards the hideous event ongoing in the country, he also shunned those calling the looters hooligans.
"Enough is Enough….SOUTH AFRICA NEEDS TO STAND TOGETHER. How dare you judge and call another black person HOLIGAN!! Just because you comfortable….I don't condone looting. What did you expect to happen if they have been misled and lied to for years???," the musician captioned video.
However, not everyone was pleased with what Jub said, including LKG.
"I'm an artist and I'm saying your generalisation is problematic. Some of us have been speaking you sending out the wrong message my brother with all due respect. Some of us are just as frustrated, been upset for many just incase you think The looting by government started 4 months ago. This is a result of what has been happening for the past couple of years, from one President to another, let's not have selective outrage. The GUPTAS let's start unpacking from the root of the problem till today, even BEFORE them, there has been looting of funds. Others hopped from one political party to another after looting. Let's speak to our people but with HONESTY!" she said.
In response, Jub slammed the DJ.
This is what bores me… Who appointed you as the minister of the right messages of South Africa? With all due respect you are untitled to your own opinion AS I AM TO MINE we shouldn't be sitting here debating. The country is burning the poor have been disenfranchised for too long in this country and it's easy for someone to say violence this, violence that when they don't know their day to day pain..I'm not here to talk politics na ma Gupta's that I don't know, i'm talking about people who think they have the right to judge the poor based on their position of privilege. Nobody is saying looting and the destruction of property is right "the wrongness of it goes without saying" what I was talking to is response of the klever black to the plight of the poor in this country. IF YOU DO NOT FALL WITHIN THAT SPECTRUM THEN THIS LIVE DID NOT APPLY TO YOU. STAND UP and help the poor instead of trying to teach me politics that's not what we are discussing …. Let this be the first and the last time you try and come for me. Unga funi ngi vule ama sak wakho…UNGANG'SUKELI.
Lerato tried justifying herself by saying she said nothing wrong.
I didn't even say anything wrong. I just mentioned that some artists are speaking. He must khipa my files I'm ready lenna. Trying to give people an impression about me.