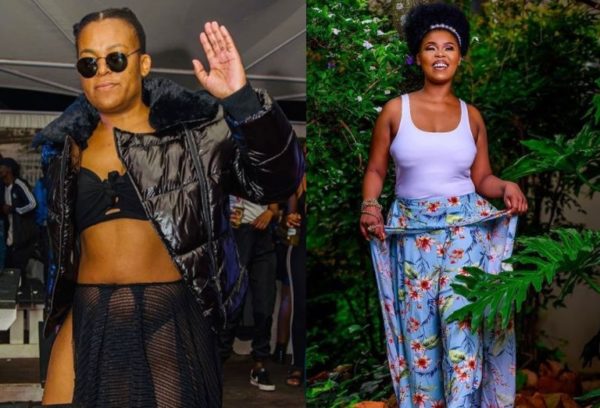 Zodwa Wabantu got South Africans' mouths unclosed through Wednesday afternoon till night, as many jaws dropped with her confession on beefing singer Zahara.
The dancer seem to be a person who cares less about people not in support of her lifestyle, but no one never saw a major beef with the singer coming.
YouTuber Lasizwe announced his new show to be premiered on YouTube soon.
The show will be graced by lots of celebrities. From teaser shared, Zodwa Wabantu will be one of the guests on the show.
Opening up about some issues, the businesswoman claims she doesn't like Zahara, and further called the singer a b!tch.
The entertainer and singer trended on social media, as Mzansi flooded Twitter with reactions.
I think it's same as that thing of men's conference that was gonna be held😂😂😂 but never took place. This is a scam maan

— QENGEBA (@Xolisile_Pato) July 21, 2021
One thing about Zodwa, she's not drinking a damn thing cause she can't help but tell the truth 😂😂😂 https://t.co/NRjLFHRIUK

— Bontle (@BontleModiselle) July 21, 2021
If Zodwa and Zahara are beefing. The one who doesn't wear underwear is wrong pic.twitter.com/u9kgQqSCap

— ❤️NTOMB'KA'MJITA (@Ntombkamjita) July 21, 2021
Zodwa hating on Zahara is something I never saw coming😭 https://t.co/qmwVWlJdBx

— 🦋 (@KanguruMichelle) July 21, 2021
Now what did Zahara do to Zodwa 😭😭😭 pic.twitter.com/Gj7SYfldCR

— Sisa (@BaddieTitan) July 21, 2021
I'm not sure about the whole sorry, but if Zodwa and Zahara are feuding. Zodwa is the one who is wrong pic.twitter.com/GUPVIDbfXU

— Chief Erican, MBA (@EricanSA) July 21, 2021
I can't sleep. I need to know what Zahara did to Zodwa. 😭

— To go is to see. (@_UthaandileM) July 21, 2021
The world is coming to an end, Zodwa Wabantu beefing with Zahara 😂🤣🤣🤣
South Africa is comedy show pic.twitter.com/gTgnkWTkuB

— Fanny-ZN 🇿🇦 (@fanny_miz) July 21, 2021