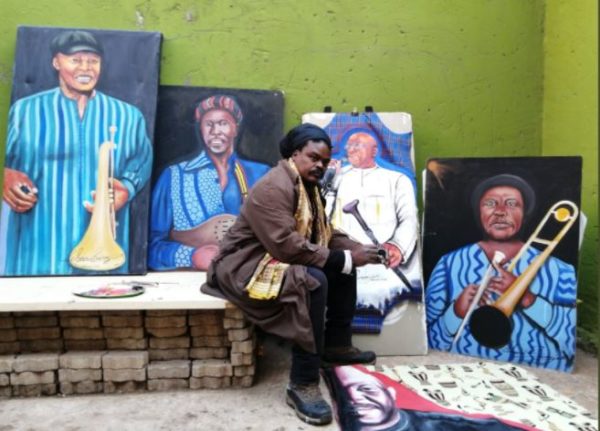 Rasta lands in trouble again over the paining of late music legend Tsepo Tshola.
The passing of the legend left many heartbroken, but Rasta who is famously known as a celebrity painter broke more hearts, especially the heart of the legend's son named Katleho.
The painter shared portrait of Tsepo which he did, and the legend's son said that's not his father.
RIP Pastor of African Pop Music 'Village Pope'.#TshepoTshola #RIPTshepoTshola pic.twitter.com/YhqPJMPjly

— Rasta The Artist (@RastaArtist) July 23, 2021
The late musician's son was frank with the celebrity painter on Twitter, and shared a more accurate painting of his dad.
"Somebody tell Rasta this is my Dad not whoever he was drawing….. I'd also like to thank the artist who drew this you did great and bless your beautiful heart," he said.
While some condemned Rasta as expected, a few other tried justifying his work.
But Rasta didn't mean bad

— Ms April ❤ (@Kimmyrussles1) July 25, 2021
are a time capsule, they have identity and the controversy around them create some sort of value which if he changed his style it would lose it.
In my books there are no bad artists, they all cater for different tastes and Rasta is a legend of our generation worth celebrating.🤞🏾

— 🇱🇸 The Scorpio ♏ King 🇱🇸 (@Ree_Mo_) July 27, 2021
its abt time someone speaks out cuz really I find most,if not all of his painting disrespectful…to some people his painting r funny but to the family of deceased his painting disrespectful and hurtful 🤞🏼 pic.twitter.com/kXGc1ClNyk

— Relebohile Limba (@RelebohileLimba) July 27, 2021