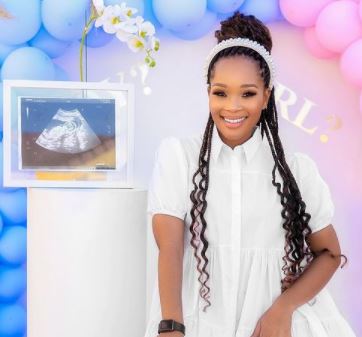 Millicent Mashile is expecting a bundle of joy and she has taken to her social media to share the news.
Few days back, the twins, Innocent and Millicent pulled a lot of people after they revealed they were pregnant but was not specific about who among them is expecting.
After taking to YouTube to delve a bit more into the pregnancy, they gave us the impression that Innocent Sadiki, who stars as Sthoko on Skeem Saam, was the one expecting.
Well, it can be seen now that it was her sister Millicent who is the one that is actually pregnant for a couple of months now it seems, six months to be precise.
"6 months ago God put a big smile on my face. We are happy to announce that we are expecting our 3rd bundle of blessing. I feel so blessed, to God be the Glory," she confirmed the exciting news.
View this post on Instagram
Millicent and her husband Pontsho Mashile are expecting a daugther.
The couple hosted an intimate gender reveal party in early July with Millicent's twin sister, Skeem Saam actress Innocent Sadiki, and her family to celebrate the big news.
"We wanted it to be intimate because we have a big family. It turned out to be so beautiful, and I think it was a good choice my sister made," Millicent said.
"I'm really excited. This is something she really wanted for the longest time, for so many years. Her twins are turning 11 so it's been quite a while. It feels like a miracle baby," said Innocent .
request for a younger sibling." She posted on social media.
View this post on Instagram