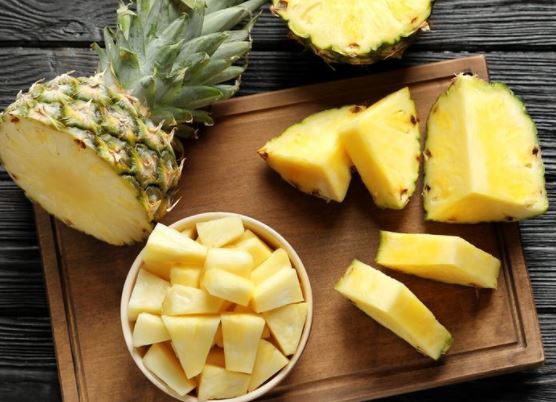 A little carelessness can take a toll on our health. Health experts have warned that people with diabetes are more prone to getting Covid as well as black fungus infection.
For this reason, in addition to continuous medication, diabetic patients are also advised to exercise and keep their bodies healthy.
Along with this, it is also very important to take care of the food they consume.
Generally, fruits are healthy for health, but consuming some particular fruits can be dangerous for diabetic patients. Know which are the fruits that patients with diabetes should avoid eating.
Here's our quick list of fruits for diabetics to avoid.
1. Pineapple
You can tell when biting into a juicy piece of pineapple that it's probably high in sugar. That sweet, sticky juice running down your chin contains about 16 grams of sugar per cup. You can cut back on the serving size by topping a yogurt parfait with diced pineapple.
2. Sweetened cranberries
Real cranberries are low in sugar and contain only 4 grams in an entire cup. However, once you dry them out and add sweetener, they're no longer a healthy choice for people with diabetes. Rather than having dried cranberries on their own, use a small handful as a topping for oatmeal or a salad like this one.
3. Raisins
While raisins are an easy snack on-the-go, they're not the best choice if you're watching your blood sugar. According to the Mayo Clinic, people with diabetes should limit their fruit portions to 15 grams of carbohydrates. One cup of raisins contains 115 grams! Opt for grapes instead or enjoy a small portion with a handful of almonds to balance the sugar.
4. Figs
There's a reason why figs make the perfect cookie filling—they're sweet! One cup of figs contains about 29 grams of sugar. Skip those boring packaged cookies and bake your own diabetic-friendly desserts at home for less sugar and more taste.
5. Tangerines
A tangerine may fit in the palm of your hand, but it packs a sweet punch. One cup (about 2 tangerines) contains over 20 grams of sugar. It's best to steer clear of this fruit or to use a small portion as a topping. Instead, steer toward the best fruits for diabetics.
6. Mangos
Enjoying a slice of mango can instantly conjure up memories of your last tropical vacation, but it's best to leave this fruit for special trips. One cup of mango contains 23 grams of sugar, so try looking for lower-sugar fruits. This grapefruit gremolata salmon dish feels indulgent but is healthy enough to enjoy every week.
7. Cherries
A cup of cherries feels like the quintessential summer snack, but it could send your blood sugar skyrocketing. One cup contains 20 grams of sugar and will probably leave you still feeling hungry. Change up your go-to summer fruit with this honey lime berry salad.