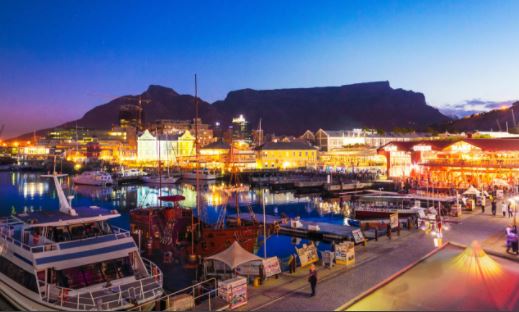 When you arrive in a new city, it's hard to know what you're getting. Choosing where to stay in Cape Town is hard, especially without local insight.
South Africa's Mother City offers a huge variety of awesome neighbourhoods. The good news is that each one of these neighbourhoods in Cape Town boasts its own set of sights.
From trendy residential areas and palm-tree lined suburbs to centrally located neighborhoods, here is our list of the best neighbourhoods to live in Cape Town.
1. Woodstock
Woodstock is definitely one of the hippest neighbourhoods in the Mother City. Here, you will find plenty of art galleries, workshops, farm stalls and co-working places where young entrepreneurs, backpackers, and exchange students spend their time. Woodstock in Cape Town is basically like Brooklyn in New York. Located just a short drive from City Bowl, this artsy district is also home to the famous Old Biscuit Mill, a popular market which houses designer stores, craft beer stalls, restaurants, and productions. We recommend having dinner at the popular Test Kitchen restaurant at the Old Biscuit Mill.
2. Gardens
There are many great neighbourhoods in Cape Town and Gardens is probably one of our favorite places to stay in the Mother City. Why? The popular Kloof Street with its cool art galleries, shops, bars, and restaurants is just around the corner and fabulous spots like the Labia Theatre, historic Company Gardens, and the luxury Mount Nelson Hotel are located here. If you are searching for a local experience, the Gardens should definitely be one of the top options on your list of neighbourhoods in Cape Town to live in.
3. Green Point
Home to the Cape Town Stadium which was built for the FIFA World Cup back in 2010, Green Point is an upmarket residential that is also well-known for its picturesque boutique guesthouses. The lovely Seapoint promenade is just a short walk away and Green Point is close to the amazing beaches of the Atlantic Seaboard.
4. Hout Bay
If you wish to be close to many cultural attractions and have that special seaside town experience, consider moving to Cape Town's Hout Bay. This lovely neighbourhood is home to the working harbor where the iconic Mariner's Wharf is located. Expect to be surrounded by dozens of seafood restaurants, as well as maritime curio shops. Hout Bay is also a popular weekend getaway destination for many families from Cape Town who come here to enjoy good food and listen to live music.
5. Camps Bay
One of the most famous suburbs in South Africa's Mother City, Camps Bay is an ideal place to live for folks who wish to be close to the palm-lined beach and cool cocktail bars. This neighbourhood is popular with both tourists and families who come here to enjoy the pristine beaches and spectacular sunsets. Keep in mind that this place can get quite windy, but the fresh breeze here is ideal for hot summer nights. Maiden's Cove which offers spectacular views of the Atlantic Ocean is also easily reachable.
6. City Bowl
Located right at the foot of the Cape Town's iconic Table Mountain, City Bowl is a great place to live in for folks who wish to be close to all the action. Here in City Bowl, there are plenty of accommodation options to choose from including modern apartments, upmarket hotels, and backpacker hostels. Getting to other parts of the city is also quite easy, as this neighbourhood has many trains, ubers, buses, and taxis available. Folks who are moving to Cape Town with kids will be pleased to hear that City Bowl is home to many excellent schools like St. Cyprian's School and Tamboerskloof Primary School.
7. Muizenberg
A part of the famous False Bay coastline, Muizenberg is one of those neighbourhoods in Cape Town that offers a relaxing and peaceful seaside vibe. Surfers Corner which is one of the most popular beaches in the region is located right here. The beach is famous for its brightly colored beach huts and there are many water activities to enjoy here including sailing, kite-surfing, paddle-boarding, and scuba diving. Muizenberg is also a place where you will see many surfers riding the waves.