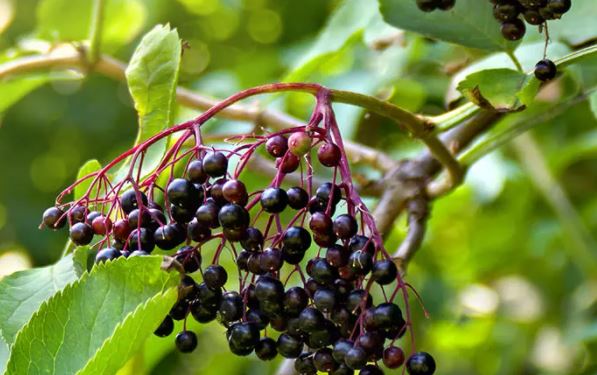 Berries are known to be some of the most nutritious things on the planet. And elderberries are one of those that you need to include in your diet.
Elderberry is now one of the most commonly used medicinal plants across the globe.
Used in both folk medicine and as a supplement to treat certain modern illnesses, elderberry is a popular plant.
Studies support their health benefits, and you've likely heard stories about the healing properties of this ancient plant.
There are a number of reasons to add elderberries to your diet. If you are wondering why, don't worry – in this post on benefits of elderberry, we get all your questions answered.
1. High Nutritional Value
Like all other berries, elderberries are low in calories and high in antioxidants. They are also a great source of vitamin C, dietary fiber, flavonoids, and anthocyanins.
These compounds all contribute to your health thanks to their antioxidant and anti-inflammatory properties. The nutritional value will vary across plants depending on ripeness and the environment where they grow.
2. Antioxidant Power
Free radicals are harmful molecules that are produced as a result of regular metabolism. The oxidative damage these can cause leads to serious diseases like diabetes and even cancer.
Elderberries contain several potent antioxidant compounds allowing them to scavenge these free radicals and protect you from damage effectively. It's important to note that processing elderberries (heating or juicing) reduce the antioxidant content, so sticking with extract will be the more practical option.
3. Beat the Cold and Flu
The berry extracts and flowers have been proven to reduce the severity of cold and flu symptoms. Recovery time from a common cold or the flu is reduced after consuming elderberry syrup or using elderberry lozenges.
After just 24 hours, individuals reported improvements in headaches, muscle aches, congestion, and fever.
4. Better Heart Health
Elderberry juice has the ability to reduce fat levels in the blood and can reduce overall blood pressure. Elderberries also reduce levels of uric acid, which in high concentration, can be damaging to your heart.
These protective activities allow elderberries to be potentially useful in preventing heart disease and promoting a healthier heart.
5. Immunity Booster
These berries are also known to improve white cell production and activity, which is an automatic immunity booster. They can also help fight certain bacteria by inhibiting growth, and they can help improve symptoms of bronchitis and sinusitis.
6. Help With Mental Health
Studies found that elderberry extract supplements showed improved mood and performance, which indicates it may have had some antidepressant properties.
7. Cancer Benefits
Berries from the European and American plants have been found to possess cancer-inhibiting qualities, but additional research is needed. In addition to this, you may be better protected against skin cancer, as elderberry extract has been known to have a sun protection factor too.