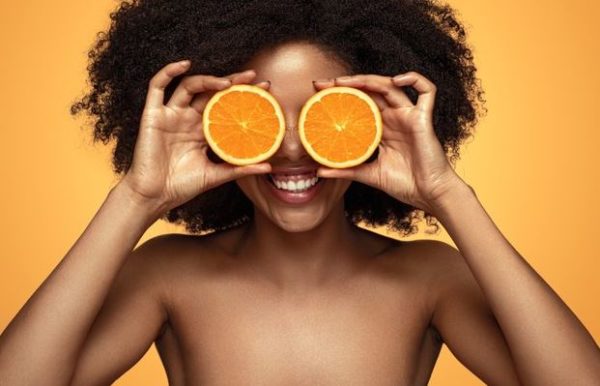 If there's one ingredient you need to empower your skin regime with, it's vitamin C.
It isn't just an essential nutrient you should eat every day but also a wonder ingredient for your skin. A powerhouse antioxidant for your skincare, Vitamin C is a buzz-worthy ingredient.
Before talking about how you can include vitamin C in your day and night skincare routine, let's delve deeper into the wonders it does for you.
How vitamin C works in your skin's favor
A lot of beauty enthusiasts swear by this wonder vitamin. Why? Because Vitamin C is one of the most effective multitasking heroes that suits all skin types.
Starting your day with a refreshing Vitamin C face wash will cleanse your skin without disturbing its natural moisture barrier while a toner will hydrate it and calm the irritated segments. Applying a Vitamin C day cream along with your sunscreen will protect you further from harmful sunrays.
1. The vital and water-soluble nutrient helps fade out pigmentation and brightens your skin tone. It fights free radicals, thus saves your skin from patchiness and dullness.
2. Vitamin C encourages cell regeneration and triggers your skin to produce more collagen and elastin fibroblasts. Therefore, adding Vitamin C to your skincare routine will help restore firmness, giving your skin a tight, plump look.
3, Besides brightening your skin tone, it also helps smooth out skin texture, making skin soft and supple.
4. About 64% of the skin is made of water, and therefore, it is crucial to keep it hydrated at all times. Vitamin C enables your skin to retain moisture and keeps it hydrated, giving it a glowy and healthy look.
5. If you are one of those struggling with inflammations or redness due to overexposure to the sun or otherwise, add Vitamin C to your skincare regime now. It treats the inflammation and also reduces the redness to give your skin an even tone.
Vitamin C serums are water-based, lightweight, and easy to absorb. Safe and effective for oily skin too, the serum increases moisture retention in your skin, besides other benefits. The rule of thumb is to cleanse, tone, apply serum and moisturize.
These benefits would have convinced you by now that Vitamin C is the Holy Grail for your skin, but you still might be confused about how to include it in your skincare routine.
AM or PM: When and how to best utilize the hero ingredient for smoother and plumper skin
Using Vitamin C day cream with a minimum of SPF15, will protect your skin against sunrays' free radical damage. A Vitamin C dose for your skin at night is beneficial too. Your skin undergoes its natural repair process while you're sleeping. So adding a Vitamin C night cream to your nighttime skincare regimen will give you the most effective results. Furthermore, if you're thinking about using the ingredient in the morning, a vitamin C facial foam accompanied by a vitamin C face serum give you a double dose of powerful antioxidant properties.
Dos and Don'ts
Many people believe that using Vitamin C during the day might make your skin sensitive to the sun, and therefore, you should only use it at night. Well, that's not true. The said vitamin is acidic in its pure form, and unlike some other acids, Vitamin C does not increase sun sensitivity. Always keep Vitamin C products way from sunlight, as it might hamper the potency and oxidize the product.
All in all, start with introducing Vitamin C in your skincare regimen gradually, and you're good to go.