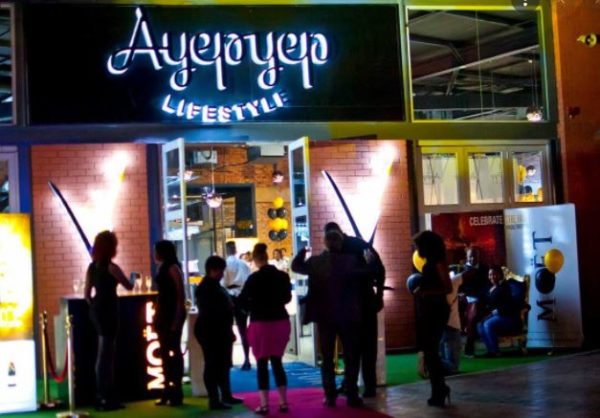 Ayepyep Club tops social media trend list as South Africans share their views on the list of requirement made by the club for hostesses and Bottle girls.
The SA club said they need ladies from 22 years and above, who can walk in heels; the ladies are expected to be small or medium in size with followers from 2500 and above on Instagram.
Some persons questioned the requirements, focusing on the fact that they neglected plus size ladies.
However, most persons surfaced on Twitter, defending the club against trolls.
See how people reacted below:
Ayepyep have a right to say it out loud what their looking for.

It's a free Country….. If they want izbutu butu they have a right to say it!! pic.twitter.com/F3GHu24C3f

— ChrisExcel (@ChrisExcel102) October 6, 2021
Lol there's nothing wrong with what Ayepyep club's requirements, smoko ke eng?🤷🏿‍♀️mos Air hostess have similar standards we've never seen fat girls there. Club bouncers too, have you ever seen a skinny bouncer? 😅😂ayi feminists ayabora shame

— Buhle Sihlali (@BuhleSihlali) October 6, 2021
Yes we are activists fighting for social justice and equality. But we need to be realistic, you can't hire a skinny man as a bouncer because he is strong at heart 😅

Ayepyep

— ⚖️Village Lawyer (@Malatjie_) October 6, 2021
Ayepyep isn't Miss SA they aren't forced to be inclusive , they not hiring role models mos

— is'bhamu (@KeanuButhelezi) October 6, 2021
Oh please stop with the fake outrage, Ayepyep is doing exactly what every club is doing, what Miss SA is doing, what every modeling job and clothing stores are doing,only they are doing it with their chests and i respect them for that.

— Bee (@NobuTheMom) October 6, 2021
You will never see slender women complaining about being excluded on "OSTUFUZA"

But plus size women have a problem with Ayepyep bcz they don't qualify!!! 😩

Ngeke phela ninyile Fats & Oil..

— ChrisExcel (@ChrisExcel102) October 6, 2021
Nothing wrong. Basadi ba nagana bophelo ke creche where everyone gets a star for participating. If you aren't Ayepyep's preference keep scrolling, tlogelang di think piece. https://t.co/4qYhi6JVqJ

— 1 OF 65 in SA (@NyathiNtloko) October 6, 2021
Ayepyep lifestyle has its own preference just like every woman when it comes to men, anyway let's not make it about gender. If you feel like there's some sort of discrimination here, open your own lifestyle then you'll understand something called brand alignment 🔓 pic.twitter.com/7OB90r1Yoh

— Efkay Lele Legodi *⃣ (@lele_efkay) October 6, 2021