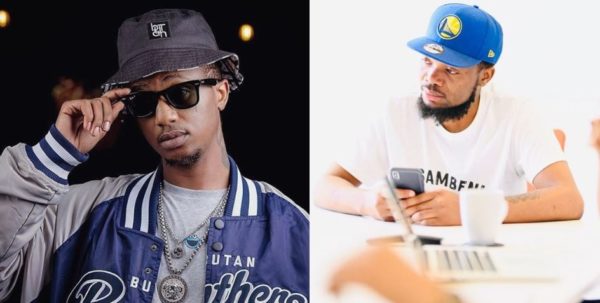 Emtee has open up on the reasons why he is still working with Producer Ruff.
Producer Ruff is behind some of Emtee's biggest hits in his career and the rapper certainly can credit the hit producer, real name Mfanafuthi Ruff Nkosi for a lot of his success.
Taking to Twitter, Emtee hared that he didn't know why this is the case and also shared why he continues to work with the African Trap Movement (ATM) producer.
He said Ruff is the steering which is why he continues to work with him on his music. "Y people think I don't work with Ruff no more? He's the sterring!" tweeted Emtee.
The award-winning artist also made it clear that he certainly wants no smoke with Ruff.
Emtee told his fanbase that in the events, he ever beefs with Ruff they should smack him.
"Please smack me the day I decide to beef with that man. All yall!" exclaimed Emtee.
Ruff has even worked on Emtee's latest body of work, Logan. Ruff is created for working on tracks, Saam Sokol', Brand New Day and Johustleburg, it is possible that he worked on more.
Y people think I don't work with Ruff no more? He's the sterring! https://t.co/rot827cNpm

— LOGAN (@emteerecords) October 25, 2021
Please smack me the day I decide to beef with that man. All yall! https://t.co/nyJHZc8zEO

— LOGAN (@emteerecords) October 25, 2021