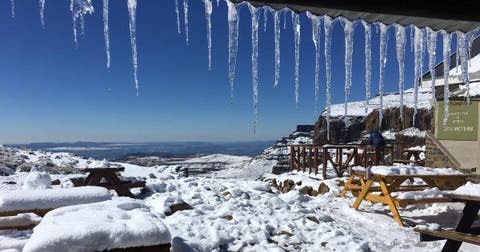 It's unpredictable, but snow does fall in South Africa's winter months and in some places you don't even expect.
With that being said, we'll be listing some of the best places that aren't too hard to reach.
Here are 9 beautiful places to experience snowfall in South Africa.
1. Matroosberg, Western Cape
Just 2 hours from CT, the Matroosberg is the most reliable snow-place in the Western Cape, and attracts a lot of daytrippers when the flakes fall, so you'll be sharing the sights with a few others who want to see snow in South Africa.
2. Cederberg, Western Cape
Snow turns the rugged, rocky Cedarberg into a totally different landscape. Capetonians, pack your warmest layers and head out; it's just a 3 hour drive to your first snowman.
3. Sutherland, Northern Cape
Home to the enormous SALT telescope, icy-cold Sutherland often gets early winter snow, and is within easy reach of Cape Town.
4. Rhodes, Eastern Cape
Rhodes is a small, remote village, about 4 hours drive from East London, close to the Lesotho border. And this is where you'll find the Tiffindell Ski Resort – so yes, it's snowy. And snow or no snow, the winters are cold!
5. Hogsback, Eastern Cape
Hogsback is South Africa's own Hobbit-land, and if you time your visit right, you might find yourself in a snowy fairytale. The Hogsback mountains are snow-capped in winter and the quaint town is worth a visit, with or without snowflakes.
6. Golden Gate Highlands National Park, Free State
Close to Bloemfontein, the Golden Gate gets a lot of snow almost every winter. Stay in the park or find great accommodation in Clarens, nearby. Take hot chocolate, gloves, hoodies – you get the picture.
7. Underberg and Sani Pass, KZN
The famous Sani Pass demands a 4×4 vehicle, so this is not for everyone, but you'll get the snow you were looking for. The nearby towns of Underberg and Himeville also get snow, although not every year.
8. Mooi River, KZN
Just 160km from Durban, Mooi River and Van Reenen's Pass nearby both get a fair amount of snow in winter. In fact, the pass is sometimes closed due to heavy snowfalls.
9. Cathedral Peak, KZN
One of the most beautiful destinations and one of the best places to see snow in South Africa, Cathedral Peak always sees snow in winter, and you'll be surrounded by snow-capped peaks. Hike to the top of the Peak, or just enjoy the scenery from below.