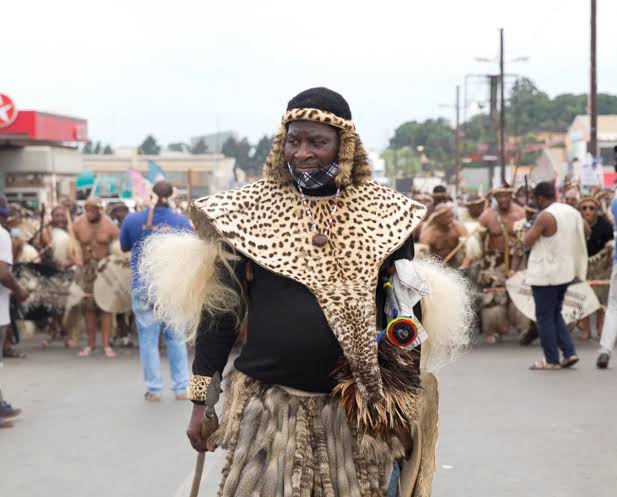 Commander of AmaZulu warriors, ubaba uZihogo Mgiliji Nhleko has been announced dead.
According to the Injenje yabeNguni Council, Nhleko passed away on Monday.
Known for leading Zulu warriors during high-profile traditional ceremonies, Nhleko has been unwell in recent months.
In July Nhleko was dismissed by the traditional council presiding over his area of Nongoma after participating in a pro-former president Jacob Zuma protest in Nkandla
However, the Zulu regiment commander was reinstated after apologising to the local council.
The Injenje YabeManguni Council on Monday evening described Nhleko as a "brave warrior".
Phumlani kaDoto Mfeka, the council's prime minister, said Nhleko was an inspiration to young Zulu warriors.
"His passing evokes great sadness and indeed anger among many as we feel robbed of a proud glistening Nguni gem whose sparkle remains unsurpassed among his peers.
"A sizeable number of the Nguni youth have been inspired by the commander ever since the late Majesty King Zwelithini kaBhekuzulu appointed him commander of the Zulu regiments.
"While there has been unsavoury sinister attempts by some to tarnish his image in the public domain, these feeble attempts failed as he remains the mostly highly respected Zulu commander of this generation," he said.
See tweets from people:
#RIPMgiliji Z Nhleko, Mdidiyeli omkhulu wamabutho kaZulu ngaphansi kobukhosi bukaNgangezwelakhe. You have served the Zulu Nation with much bravery, and faithfulness. We wish you a peaceful eternal rest. May the family and amabutho onke be comforted and find strength in our God. pic.twitter.com/mcnrZxSHjm

— Mashobane (@BhejewaseNgome) November 8, 2021
#RIPMgiliji this is sad and questionable 💔💔 pic.twitter.com/nwFB2ERPKX

— Yolanda💭 (@YolandaGcwensa) November 8, 2021
Rest In Peace Baba Mgiliji nduna yamabutho.. You stood your grounds even when all the odds were against you #RIPMgiliji pic.twitter.com/VOjj9TPctF

— 🍟ᴷʰᵃᵇᵃᶻᵉˡᵃ🍟 (@Dazeenho) November 9, 2021
#RIPMgiliji History will remember you Baba. pic.twitter.com/FvnEHRXIQI

— ZaneleLwana (@ZaneleLwana) November 9, 2021
#RIPMgiliji History will remember you Baba. pic.twitter.com/FvnEHRXIQI

— ZaneleLwana (@ZaneleLwana) November 9, 2021