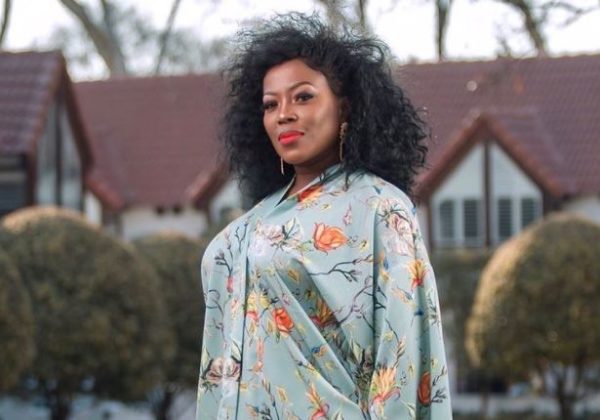 South African actress, Rami Chuene is disheartened over how an unnamed madam ill-treated her helper.
Taking to Twitter, the star narrated how the madam deducted the helper's salary from R3000 to R1000.
Rami urged people to stop effusing toxicity to helpers, as the victim is the sister of her own helper.
"Lena! Let me tell you something. Don't abuse your helpers! Vok!!!!! I'm so angry. I'm not crazy about screenshots but this you won't believe me if I don't show you. Here's a madam (black) in Broadacres robbing and financially abusing her helper in broad daylight…"
"The helper here is sisters with our helper, meaning I'm getting this info first hand. We were very excited that she got a job not that far from her sister, little did we know she was going to be working for a 'Holy Spirit' filled scammer."
"A salary was negotiated and agreed at R3000- in Broadacres but asikholapho. Helper went with her own toiletries but was told that in that household you use their stuff not what you bring," she added.
"It was agreed that helper could eat at home. On some occasions, hubby who is in construction would bring muffins home and helper would be offered. Then a packet of sweets here and there would also be given to helper. One time he brought cake for madam & she gave it to helper."
At the end of the month, the madam gave an income and expenditure statement, which reveals that the madam deducted money from the salary for all that the helper used and ate in the house, despite their initial agreement.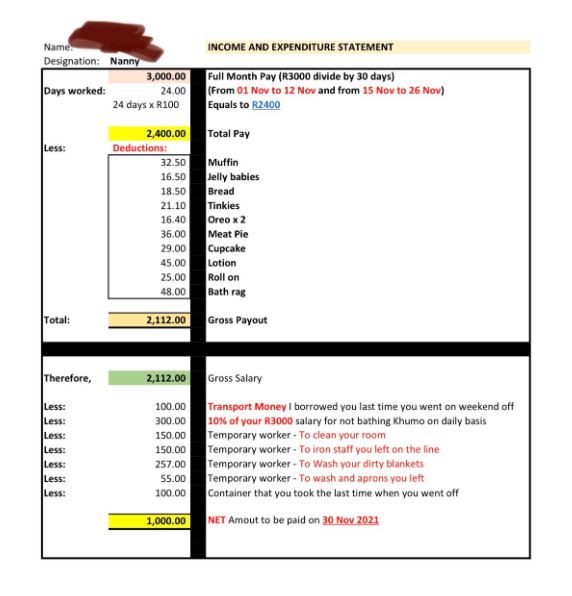 Rami also shared the a chat showing the conversation between the madam and her helper.
Bathong! What level of witchcraft is this? I'm so angry! Also madam told helper that she needed to ask her pastor to cleanse the house after helper left and that will be on her account. pic.twitter.com/N5b5d0tdTL

— Rami Chuene🌈🏳️‍🌈 (@ramichuene) November 30, 2021
Rami emphasized with the helper, also did some of her Twitter followers, as people donated money in other to put a smile on the face of the helper.
Update of the update: Seems like the number I sent doesn't have active ewallet. Kindly use this one: 065 688 2427. Thank you again! I'll delete the other tweet to avoid confusion. https://t.co/ELY35PNFgw

— Rami Chuene🌈🏳️‍🌈 (@ramichuene) November 30, 2021