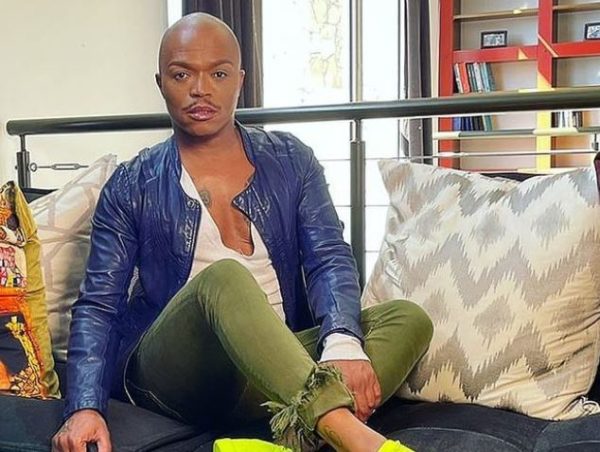 Somizi and his alleged new bae has been dragged over age gap.
Entertainment blogger Musa Khawula reports, the actor is allegedly dating Lindile Mbadu.
According to Musa, the two were seen kissing at Ayepyep Lifestyle Lounge during new year celebrations, and have further been rumoured to be staying in the same villa in Llandudno, where the celebrity chef is now vacationing.
Well, Somizi is now being dragged after it was reported that the age gap between them is much.
Twitter people are divided; as some persons saw no big deal in it, others condemned Somizi who is 49- year-old for dating the young man who is alleged 22 years old.
See reactions below:
Busta 929 is 30 years old he was trending for chilling with 18 year old girls

Somizi is 50 years he's dating a 22 year old boy the age gap is 28 years

Nithule njeee..

— ChrisExcel (@ChrisExcel102) January 4, 2022
Somizi loves them young. broke and vulnerable

They make him feel young..

They make him forget that he's only left with 5 years to get SASSA old age Grant.

— ChrisExcel (@ChrisExcel102) January 4, 2022
That boy Somizi is dating now he is 22 years

By the time that kid reach 40 years Somizi will be looking like this 👇 pic.twitter.com/B1SIJcfgjL

— ChrisExcel (@ChrisExcel102) January 4, 2022
I once said that

Somizi and Zodwa are predators

They prey on young broke vulnerable boys but its not talked about because

he's gay
she's a woman
And the victims are boys not girls pic.twitter.com/yhhfhbzxF6

— Ntshieng (@LeratoN_) January 4, 2022
What if these boys planned to bankrupt Somizi..

Phela these boys don't love Somizi pic.twitter.com/HQU6dA3Ljm

— ChrisExcel (@ChrisExcel102) January 4, 2022