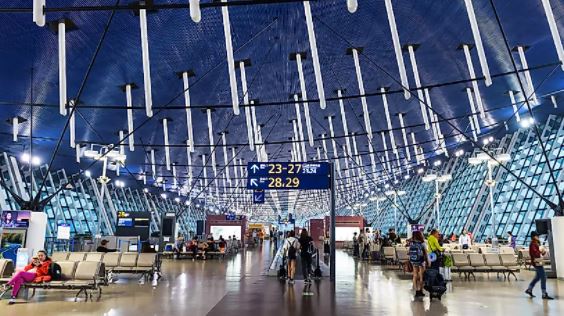 Airports are every traveller's second home! Being the most common gateway to other destinations, the airport offers the infrastructure and all the latest technologies for a smooth experience of passengers.
The world is dotted with some incredible airports, which are noted for their beauty, for being large or small, and latest technologies, among others.
On this note, let's have a look at some of the largest airports in the world.
​1. King Fahd International Airport, Saudi Arabia
Also known as Dammam International Airport or Dammam Airport (DMM), this is the biggest international airport in the world serving Dammam in Saudi Arabia. Located some 31 km from the city, the airport is named after the former King of Saudi Arabia, Fahd ibn Abdulaziz. The airport is built over an area of 776 sq km and has three terminal buildings.
2. Denver International Airport, Denver
Second in the list is Denver International Airport covering an area of 135.7 sq km. The airport operations started in 1995. The airport is a hub for several international airlines.
3. Fort Worth International Airport, Dallas
Spear over an area of 69.5 sq km, Dallas/Fort Worth International Airport (DFW) began its services back in 1974. The airport is among prime aviation hubs for American Airlines with five terminals and seven runways serving international and domestic flights.
4. Washington Dulles International Airport, Washington
One of the most important airports in the US, the Washington Dulles International Airport (IAD) covers a huge area of 52.6 sq km. Commonly known as Dulles International Airport, the airport was inaugurated in 1962. It is the first and main hub for United Airlines.
5. Orlando International Airport, Orlando
Built in 50.9 sq km of area, the Orlando airport serves as a major operating base for several international airlines, including JetBlue (JBLU) and Southwest Airlines (LUV). The airport that started its commercial operations in 1981 has four runways.
6. Beijing Daxing International Airport, China
This airport is also considered an architectural marvel! Spread over 47 sq km, Beijing Daxing Airport (PKX) is the sixth largest airport, in terms of area size. Not only this, it is also the largest single-building airport in the world opened in 2019.
7. George Bush Intercontinental Airport, Huston
Opened back in 1969, George Bush Intercontinental Airport (IAH) is spread across an area of 40.5 sq km. The airport was Initially named as Houston Intercontinental Airport, but the name was changed later after President George Bush.
8. Shanghai Pudong International Airport, Shanghai
The gorgeous airport is built over an area of 39.1 sq km and serves as a major aviation hub for Shanghai Airlines and China Eastern Airlines (CIAH). The airport features two major passenger terminals and a third terminal is also in the plan.