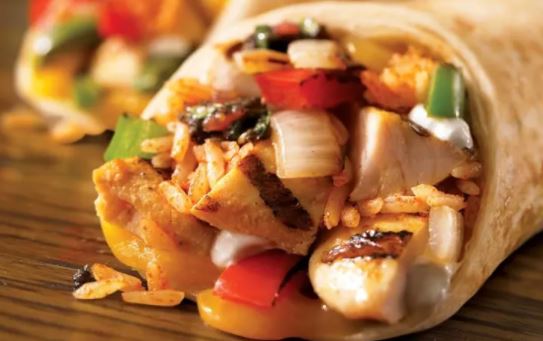 Whether you have type 1 or type 2 diabetes, are prediabetic, or cook for someone who has diabetes, these 10 terrific diabetic-friendly recipes keep blood sugar stable and help you go from fat to flat, thanks to belly shrinking nutrients.
1. Spaghetti Squash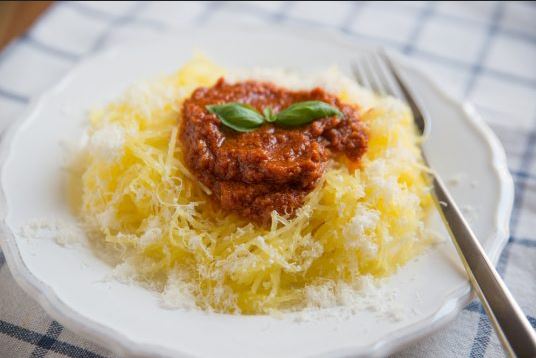 Spaghetti squash is simple to cook and makes a great lower-carb substitute for pasta. Having fewer carbs per serving means spaghetti squash won't influence your blood sugar as drastically as higher-carb foods. Cooked spaghetti squash has only 10 grams of total carbohydrate per cup.
Ingredients:
2 2-lb. spaghetti squash
1 tbsp. extra virgin olive oil
Salt and pepper
Cookie sheet
Tomato or pesto sauce
Instructions:
1. Preheat oven and slice squash. Preheat your oven to 400 degrees. Slice your spaghetti squash in half lengthwise and remove the seeds. The larger the squash, the wider and longer the noodles.
2. Oil, salt, and pepper squash. Rub the inside of the squash with the olive oil and salt and pepper it lightly.
3. Bake squash. Place the squash on the cookie sheet, cut sides up. Bake it until soft – about an hour.
4. Scrape inside with fork. Let the squash cool until you can handle it. Then scrape the inside with a fork, lengthwise, to form noodles.
5. Toss noodles with pasta sauce. Toss the noodles with your favorite pasta or pesto sauce and enjoy a happy supper.
2. Seared Chicken with Avocado
Avocados contain healthful monounsaturated fat, which has been linked to a reduced risk of cancer, heart disease, and diabetes. With 221 calories per serving, it's part of a nutritious diabetes diet, and the seared chicken contains plenty of protein.
Ingredients:
1 1/2 teaspoons blackened seasoning
4 (4-ounce) skinless, boneless chicken breast halves
1 teaspoon olive oil
1 diced peeled avocado
2 tablespoons chopped fresh cilantro
1 jalapeño pepper, seeded and finely chopped
2 tablespoons fresh lime juice (about 1 lime)
1/4 teaspoon salt
1 lime, cut into fourths
Instructions:
Step 1:  Sprinkle seasoning on both sides of chicken.
Step 2:  Heat oil in a large nonstick skillet over high heat. Add chicken to pan, smooth side down; cook 1 minute or until seared. Reduce heat to medium; cook 3 minutes on each side or until lightly browned.
Step 3:  Combine avocado, cilantro, pepper, lime juice, and salt. Squeeze one-fourth lime over each piece of chicken before serving. Serve with avocado mixture.
3. Salmon-and-Chickpea-Salad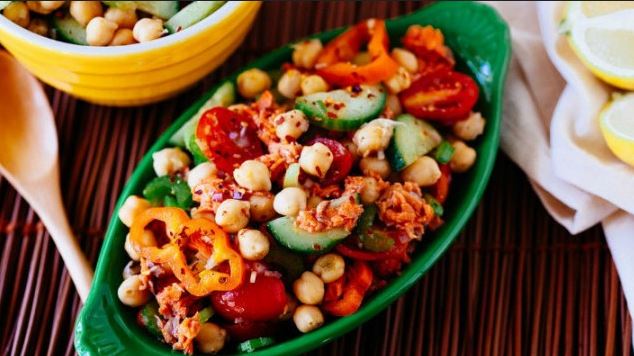 It doesn't have to be summer to enjoy a  summery chickpea salad with plenty of fresh vegetables and salmon.  This recipe is perfect for any quick lunch date and weekend afternoons with friends.
Ingredients:
2 cans chickpeas, rinsed and drained
5 stalks of celery, thinly sliced
3 shallots, finely minced
2 cloves of garlic, finely minced
2 bell peppers, thinly sliced
1 large cucumber, halved and sliced
1 pint tomatoes, halved
½ cup (or more, to taste) of olive oil
juice and zest from 1 lemon
1 tablespoon (or more, to taste) red vine vinegar
1 teaspoon kosher salt
1 teaspoon fresh or dried dill
½ teaspoon freshly ground black pepper
½ teaspoon smoked paprika
½ teaspoon ground cumin
½ teaspoon crushed red pepper flakes
2-3 cans salmon, drained
Instructions
Step1: Finely mince and chop your celery, shallots, garlic, bell peppers, tomatoes and cucumber, and add them to a large bowl with your chickpeas. Toss together with the olive oil, lemon juice and zest, red vine vinegar, salt, dill, black pepper, paprika, cumin, and crushed red pepper flakes. Taste, and adjust seasonings as needed.
Step 2: Drain your cans of salmon and add them to the bowl. Toss to combine. Allow the salad to sit for an hour or so in the refrigerator, taste, adjust seasonings as needed, and serve. This will keep well in the refrigerator in an air-tight container for up to 4 days
4. Low-Carb Pizza
Just because you're on a carb restricted diet doesn't mean that you have to say good bye to the foods that you enjoy. Pizza being one of them. This low-carb pizza crust recipe is everything you've been dreaming about. Healthy and delicious.
Ingredients:
1 1/2 cup of flax seed meal
2 tsp of baking powder
1 tsp of oregano
1 tsp of salt
1/2 tsp of Stevia or natural sweetener
3 eggs
3 tbs of olive oil
1/2 cup of water
Instructions:
Step 1: Preheat oven to 425 degrees.
Step 2: Mix dry ingredients together.
Ste 3: Add wet ingredients and mix well.
Step 4: Let the dough sit for about 5 minutes to thicken up.
Step 5: Spread dough on a large round pan. If you don't have this you can line a cookie sheet with greased parchment paper (this is what I did).
Step 6: Bake for 15-20 minutes or until cooked through. Check it at the 15 minute mark and take out if it looks done.
Step 7: Add toppings and place back into the oven to melt the cheese.