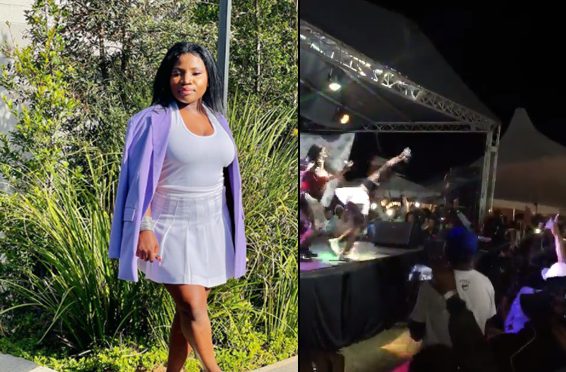 Makhadzi got tongues wag after she pushed one of her dancers off the stage at a show.
The singer is known to be one of South Africa's best stage performer and her energy can't be compared, as she gives every performances her all.
On Monday, the star trended on social media as a recent video of her surfaced; Makhadzi hand touched one of her dancers who was spraying water on stage, and before we knew it, the dancer was off the stage and had landed on the floor.
The video has garnered mixed reviews; while some persons tried to understand the situation, other requested that the Ghanama hitmaker explain what happened and apologise.
Check out video and reactions below:
Sartuday at Moonlight Tarven in the North West where Makhadzi was performing. Ended up pushing 1 of her dancers off stage pic.twitter.com/bRoWR5onZx

— Mpho Matshosi (@Freckledmpho_sa) March 7, 2022
This is what Makhadzi did to her dancer…… pic.twitter.com/L1wL17m4Io

— ChrisExcel (@ChrisExcel102) March 7, 2022
Basically what makhadzi did😭 pic.twitter.com/WdsKHjBNbA

— ♣️ S F U N D 🤬 _ 1 9♠️ (@Sfundo_19) March 7, 2022
I can't stop watching that Makhadzi vid every time it pops up, shem she didn't mean to😂

— Mafungwashe💞 (@mayizukiswe_m) March 7, 2022
AKA: I throw phones over balcony.

Makhadzi: Hold my beer. I throw dancers over the stage

😭😭😭😭😭

— The Iron Duke (Unruly) 💜🖤💙 (@ScelonG) March 7, 2022
Makhadzi looking at her strength like….I never knew I have so much supernatural power in me..🥺 pic.twitter.com/qgRdXzhtXA

— vote for 👻 and 🐐 (@oriya20) March 7, 2022
That video ya Makhadzi is really disturbing

— Tshegofatso 🎈 (@Shaggy_EhxSA) March 7, 2022
I think Makhadzi pushed her dancer by mistake. It can't be deliberate. I refuse. pic.twitter.com/p3I8LBHy5J

— Tiyiselani (@TiyiBevhula) March 7, 2022