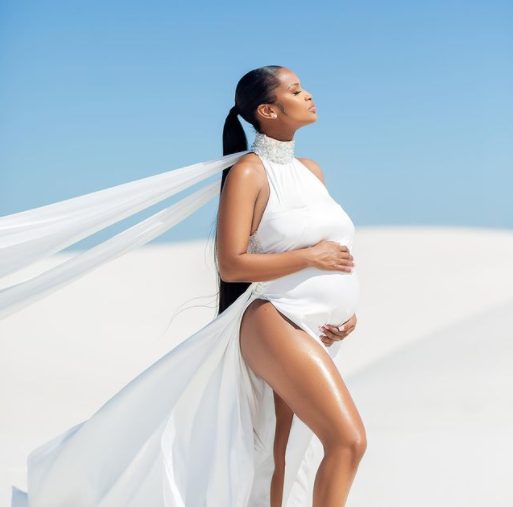 The word "baby mama" as we all know is a title given to women who bear children for men out of wedlock.
However, some South African women have shown that even if they are baby mamas, they are ready to take full responsibility for what might come their way.
However, in the case of a guy, he's called "baby daddy".
Unlike in the old days when the polygamous life was rampant, today, young people choose the baby mama, daddy lifestyle instead.
Let's take a look at some of the South African women who are set to be baby mamas:
Ayanda Thabethe announces her pregnancy with an adorable video in January as she showed off her baby bump.
However, she is yet to reveal the father of her baby but many of her fans already know she is yet to marry and is now set to be a baby mama.
Ayanda said: "More than my heart can hold. Greater than I deserve. Beyond everything I could ask for. An answer to a secret and nervous prayer. Finally, my forever has come .."
View this post on Instagram
Natasha went on to reveal that she is expecting as she showed off her baby bump.
However, it is unclear who the father of the baby is but she has confirmed her relationship with Thembinkosi Lorch some time back.
View this post on Instagram
Blue Mbombo debuts her baby bump on February 14 and she made it known that she has gotten the best valentines gift.
On the other hand, many of her fans were curious about who the father of her unborn child is as a result of the fact that she is yet to be married.
Well, Blue is yet to say anything about it which may result in her becoming a babymama as soon as she welcomes her bundle of joy.
View this post on Instagram
Nomalanga announced her pregnancy on the 7th of February and congratulatory messages came in immediately.
Her fans are excited but are also curious to know who she is pregnant for.
Noma has been private about her love life and most men would do anything just to have her as their wife.
Unfortunately, it is still very sketchy and unclear whether the beautiful actress is in any form of relationship at the moment.
Many believe she has a boyfriend she's keeping away from the public but now that she has debuted her baby bump, it means she has a man in her life.
View this post on Instagram
Gugu Gumede made her pregnancy known in January and she has been sharing her journey so far.
The star is also very private about her love life and as a Christian, she is very open about her faith.
The actress is also a very reserved person as she rather keeps her matters to herself.
Many were surprised when she debuted her baby bump but we are yet to know who the father of the baby is and the last time we heard, she is not yet married.
View this post on Instagram