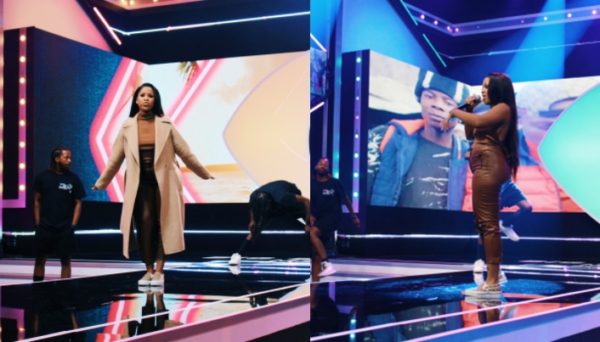 Pabi Cooper got netizens talking on Sunday night after her performance at the BBMzansi eviction show.
The vocalist expressed huge excitement over performing at the reality show, but most persons felt otherwise, as they expressed disappointment at her performance.
While some lamented about her lip-synchronising, others rated her low, saying she's not a performer.
However, a few persons came to her defense, saying the organisers of the show, especially those in charge of sounds made the star flop.
It's assumed that she will get better with stage performance as she's rated a fast-rising star by some analysts.
Pabi Cooper is not a performer… #BBMzansi

— Maka Liyana🌸 (@_Zana101) March 20, 2022
Let us not slander Pabi Cooper the girl is only 21years old and still has a lot to offer, the problem is that y'all are used to entertainers like me who are always bringing their A game, Pabi Cooper is young don't put pressure on her. #BBMzansi

— Collen (@Collen_KM) March 20, 2022
Pabi Cooper if you going to lip sync, please do it properly🙄🙄🙄 #BBMzansi

— Babongile (@BabongileManko) March 20, 2022
Pabi Cooper is not even ashamed of her LIP SYNCin which doesnt correspond to the song…you put the MIC on your mouth when you turn to sing comes not every damn time 😩😩 Imagine if this was a PAID concert i would need a REFUND #BBMzansi #BBMzanzi #BigBrotherMzansi

— That Guy 🌍 #BBMzansi (@dr_munyah) March 20, 2022
Pabi cooper doesnt know how to improvise. #BBMzansi

— Boitumelo (@BoituRSA) March 20, 2022
#BBMzansi did Pabi Cooper wrong. Kapa the microphone is always like that for everyone? I'm not a regular viewer hleng. pic.twitter.com/ky8yy395rJ

— Paballo (@Blac_uniCORN) March 20, 2022
Who is this pabi cooper? I saw her on Idols one time. Her stage presence is dead #BBMzansi

— Yho ha. a (@__Siiya) March 20, 2022
Bad bad performance pabi cooper. Lyp synching.. Wardrobe malfunctions. Words out of sync… Everything bad #BBMzansi

— LeboM (@Lorenz51213896) March 20, 2022