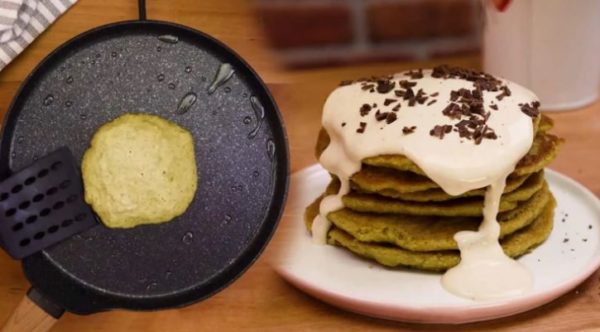 Have you ever tried avocado pancakes before? If not, they'll surely win you over with their fluffy, moist goodness!
Not to mention, avocados pack a punch when it comes to nutrients and healthy fats.
If you're ready to try this unique spin on a traditional breakfast dish, read on for the recipe below!
Here is how you can serve up these delicious avocado pancakes.
Things you'll need:
Large bowl
Spoon
Chef's knife
Immersion blender
Electric or hand whisk
Pancake griddle or pan
Ladle
Ingredients for pancakes:
One ripe avocado
1/4 cup maple syrup
2 tbsp baking powder
1/4 tsp salt
3 cups oat flour
2 cups plant milk (whichever you prefer)
1 tbsp lemon juice
Cut the avocado in half and remove the pit. (Pro tip: your knife can do this easily. Hold the knife about eight inches above the pit and whack it with the knife, keeping your hands clear. The blade embeds in the pit; simply twist the knife to remove it).
Next, scoop the fruit out of the skins, place them in the mixing bowl, and use a hand mixer or immersion blender to blend.
Once they're smooth and creamy, add the maple syrup and baking powder.
Now pour the salt, oat flour, and plant milk into the mixture.
Use an electric or hand whisk to mix all the ingredients.
Once they're thoroughly combined, add the lemon juice and whisk the mixture thoroughly.
Ingredients for topping:
3/4 cup Greek yogurt
1/4 cup Maple syrup
1 tsp vanilla
1/4 tsp ground nutmeg
1/4 tsp ground cloves
Shaved chocolate
Crushed hazelnuts
Directions for making the topping:
Place the Greek yogurt into a bowl. Next, add the maple syrup, vanilla, ground nutmeg, and cloves.
Mix all the ingredients with a small spoon. After they're thoroughly combined, set aside for now.
Time to cook the pancakes!
After all the prep, it's time to get to the good stuff. First, put a dab of butter or oil into the pan. Grab a ladle and spoon the pancake batter onto the griddle or pan. Use the spoon to flatten and form it into a circle—Cook for a few minutes on each side. Depending on the size of your pan or skillet, you could make multiple pancakes at once to save time.
Cook however many you'd like, then plate them and serve. Pour the Greek yogurt mixture on top for an extra treat. Sprinkle shaved chocolate and crushed hazelnuts for the final addition to this culinary masterpiece. Enjoy!