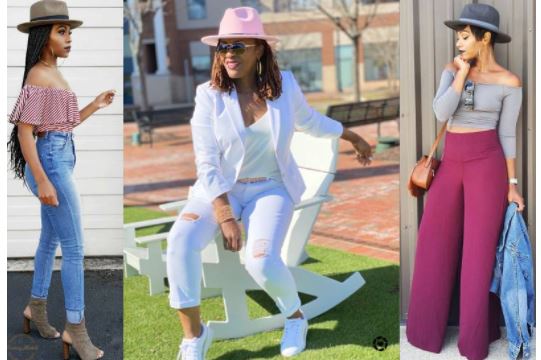 Where would we be without our beloved accessories?
They're the main ingredient to an amazing outfit and it's hard to pull off a look without at least having one or two accessories on.
We love the jewelry, the trendy scarves and other must-have accessories, but we can't forget hats.
We've tried trendy hats like the beret which gives a classy chic look and if you're into the street style scene, you've probably tried the famous bucket hat.
I'm definitely here for the variety of hats for every style need and a major one that might continue to trend this year is the fedora hat.
Although it's been around for a minute, it's one of those timeless pieces that will not go out of style any time soon. They are functional, classy and can be paired with different types of outfits.
Here are some ideas on how to rock them:
1. Wear it with a girly dress on a sunny day
The fedora is one of those accessories that are unisex. That means it's capable of giving a tomboy or girly vibe depending on how you wear it.
If you want to release your feminine side in a stylish way, combine it with a soft free-flowing dress. It won't matter if it's long or short because the fedora hat will still blend in well.
  2. Pair with a trendy trouser suit
I love all the contemporary suit designs that keep coming up. You're not limited to only wearing them at the office because now you can serve different suit looks on different occasions.
Trouser suits make a style statement but they can be hard to accessorize. You can keep it simple by combining this outfit with a fedora hat.
This is a modern and fresh twist to the fedora hat.
3. Experiment with lounge sets
Style has evolved to prioritize comfort. With loungewear you can look fabulous and be comfortable all day.
The option that you should try when figuring out what to wear with your fedora hat is the matching loungewear set. You can elevate this look by wearing a trendy jacket, sneakers and simple jewelry.
Just make sure the colors all tie in together.
4. Let your hat match the color scheme of your outfit
Although a hat is a small part of any outfit, it has the power to draw in a lot of attention. And the fedora is one of those bold choices that stand out regardless of what you're wearing.
For a chic look, you should have a variety of hats that can blend in with what you're wearing. If you're wearing a white outfit, your hat should match something close to that. This will give you a more updated look that you can rock in 2022.
5. Swap skinny jeans for loose fitting jeans
In previous years, the easiest way to look trendy with a fedora hat was to wear it with a pair of skinny jeans and boots. That was a cute look at the time but now it's time for something else, and that's trendy loose-fitting jeans.
Complete the look with a tight fitting top or a loose one, depending on your style taste and strappy heels instead of boots.