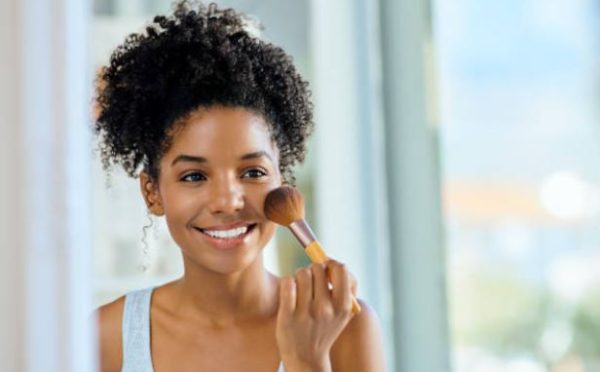 Do you have oily skin? Applying makeup on oily skin is such as a huge task, the first and foremost being choosing the right makeup products.
Also, when makeup is applied on oily skin, it refuses to stay put and gives your face blotchy and shiny appearance.
If you have trouble with the makeup clogging your pores and making your skin even more oily, we share with you some makeup tips that will help beat this.
Read on to know some important makeup tips that you need to keep in mind when you have to apply makeup on oily skin type.
1. Prime your skin
Wipe your face with a toner to soak up the excess oil. Before you apply makeup, prime your skin. It will also act as a base for your makeup and as a protective layer between your skin and your makeup by preventing the makeup from clogging the pores. Applying a primer will ensure that your makeup lasts longer. Choose a primer that has salicylic acid, it will help in fighting acne problems. If you have sensitive oily skin, steer clear of silicone-based primer as it can cause allergic reactions leading to breakouts.
2. Choose the right foundation for oily skin
If you have trouble finding the perfect foundation for your oily skin, opt for a powder-based one. As it will not melt off on your face and require no touch-ups. Also, using pressed powder will not be heavy on your skin and will minimize the shine. You can also use a water-based foundation or a mousse foundation in matte finish. Foundations that have silica can also be used as it contains oil controlling properties, that will nit leave your skin blotchy.
3. Use loose powder or pressed powder
If you have oily skin, you already know that face powder comes handy every time. Whether it is loose powder or pressed powder, both work on oily skin. But if you have really oily skin you should prefer loose powder as it absorbs the oil instantly. At all cost avoid powders that give out shine and shimmer, as it will only make your face look more oily. You can also use a blotting paper on your T-zone and the rest of your face to get rid of the excess oil.
4. Opt for matte blushes instead of cream based ones
Always opt for a matte blush instead of cream based ones or the ones that have shimmer. Also, you can use powder blush, as it tends to last longer. But if you do not have access to any other and have to apply cream blush, set it using some translucent powder so that it will not melt off your oily skin.
5. Apply minimum layers
Always remember less is more when it comes to applying makeup on oily skin. So avoid applying multiple layers of makeup on your face, otherwise it will cake up or start melting. Keep it to minimum layers when it comes to applying makeup. You can also switch to using mineral makeup as it has oil free minerals which are ideal for oily skin and it stays on the skin for a longer period of time.
6. Use an oil-free makeup remover
You must be careful when it comes to choosing your makeup products, but at the same time you need to also pay attention when you buy a makeup remover. Always buy an oil-free makeup remover and toner. Always clean you skin with an oil-free makeup remover and toner.