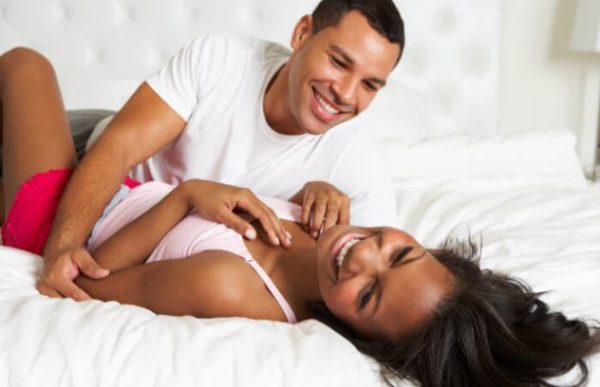 So, you want to get intimate with your partner. Guess it's time to strip down and play with each other's naughty bits, right? Wrong!
Okay, so sex is special, especially when it's with someone you like. But believe it or not, there are other things to do that can build as strong of a connection with your partner.
They make you feel even closer and if you do them right, they'll probably lead to even better sex when you do have it.
Don't be scared of deeper intimacy than just doing the horizontal (or vertical, if you're up for a change) tango.
Here are some intimate things to do with your partner that will make you feel incredible.
1.

Spend some time cuddling
Skip the sex and go straight to cuddling. Put on some background noise like a movie you've both seen a hundred times or some music. Just wrap yourselves up in each other and listen to the gentle rhythm of his heartbeat and breathing. It's sweet and more intimate than you might think.
2.

Talk about what's really important
You say you're fine, he grunts that his day was good too. You might share some meaningless celebrity gossip and he'll share how proud he was of some bodily gas he excreted earlier. That's not enough. Have a deeper conversation. You don't have to do it every day, but talk about hopes, fears, dreams, and even about the relationship itself.
3.

 Offer to help your partner with something
Nothing is quite as sexy as a man that's not afraid to help with the dishes or any other chores for that matter. Helping your partner with some random task gives you the two of you extra time together and shows you care. It's amazing how close you feel when you wash and he dries.
4.

Play truth or dare
Add a bit of risk into the equation with some old-school Truth or Dare. I know it might sound childish, but why should couples have to be mature 24/7? Sit down in the middle of the living room floor and have fun. You'll be laughing and opening up in no time. If you play it right, one intimate thing might just lead to another.
5.

 Try something new together
Trying something new together makes both of you more vulnerable. Neither one of you know what to expect. This means you share the entire experience for the first time together. It's simple but deeply intimate.
6.

 Focus on just making out
Somewhere along the way, we've lost sight of the joy of simply making out. Keep the clothes on and enjoy the thrill of kissing without expecting anything else. Going straight to the main course is so boring. Try something more innocent and see how connected you truly feel.
7.

Sleep together
No, I don't mean sex. I'm talking about literally sleeping together. Curl up with each other and drift off. Trusting each other enough to simply sleep together is incredibly intimate. It's also strangely romantic.
8.

 Share your fantasies
I didn't say other forms of intimacy had to exclude sex completely. How often have you wanted to role play? What about trying a little bondage? My guess is you were too shy to bring it up. Sit down and share your fantasies. You don't have to do them right this second, but it takes courage to open up and say what you'd love to try one day.
9.

 Give each other a massage
This is, without a doubt, one of the most intimate things to do with your partner. Skip the professionals and give each other massages instead. One of the sexiest things in the world to me is a guy who knows how to rub all the tension out of my neck and back. It's perfectly fine to get naked. Just don't have any expectations outside of a relaxing massage.
10.

 Take a shower together
Granted, this might be difficult to do without things going too far very quickly, but if you can try and detach from the overt sexualization of the situation, you can really take the time to care for one another. Wash one another's bodies, stand under the water together in the quiet, and just bask in each other's bodies. This is without a doubt one of the most intimate things to do with your partner.
Bonus:

Netflix and chill… But for real
The whole "Netflix and chill" thing is generally understood to be code for getting it on. However, why not take it literally? Find a series to binge watch together or a few movies to hit up back to back, then get a bunch of your favorite snacks together and just relax in your comfy clothes on the couch for the night. Cuddle up close and relax.