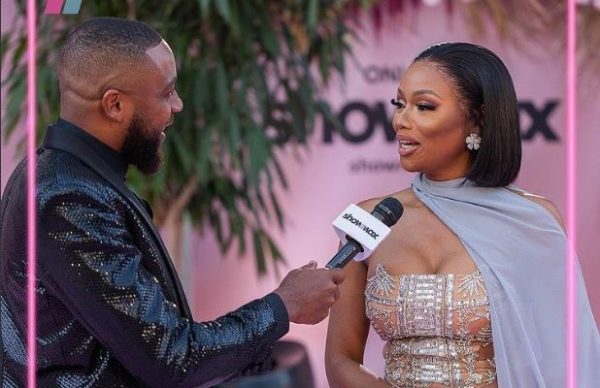 Fashion statements were served at the premiere of the Real Housewives Of Lagos reality show in Johanessburg.
Celebrated entertainers and influencers graced the pink carpet flaunting all the glitz and glam.
The event trended through different social media platforms as it was the talk of the internet on Thursday night.
Men and women came looking dazzling and leaving netizens drolling; though, a few trended due to style errors.
Below are some of the looks from the event:
View this post on Instagram
These are our representatives for the night 🔥🔥🔥#RHOLagos pic.twitter.com/FbdzX4IxNA

— Pali_Ongketsang (@Pali_Ongketsang) April 7, 2022
View this post on Instagram
Madam GOGO 💜#RHOLagos launch ✨@ShowmaxNG @ShowmaxOnline pic.twitter.com/hJJMqPFMKF

— uMaka Mah 👵🏽 (@DBNGOGO) April 7, 2022
Let's go to meet the housewives of Lagos #RHOLagos pic.twitter.com/yIdY3oZin4

— Lasizwe (@lasizwe) April 7, 2022
First few shots of The launch of #RHOL 🥰😍❤️

👗: @houseofsass_sa
💄: Spotless by Zamo #RHOLagos @Luyanda_Maf pic.twitter.com/HKvslWP83d

— 2022's Champion☄️ (@ZanelePotelwa) April 7, 2022
It's a lifestyle.#ThembaBroly𓃵 #RHOLagos pic.twitter.com/vgAxiwsISV

— ThembaBroly (@ThembaBroly) April 7, 2022
Libo is the best dressed male for me 🔥🔥🔥. He ate up the outfit so effortlessly. David Tlale really did the things with his outfit 🙌🏾 #RHOLagos pic.twitter.com/9A8N4cu3X4

— 👠Nolali👠 (@Amza_5) April 7, 2022
Sis Tamara will always raise the bar 🔥😍 #RHOLagos pic.twitter.com/FRS4Krdt0f

— LĘĘ🌼 (@LeeMpaki) April 7, 2022
GUYS 😍😍😍🔥🔥🔥 #RHOLagos pic.twitter.com/abvf8paoZr

— Dowsky (@Dowsky26) April 7, 2022
Gigi_Lamayne understood the assignment ❤️🔥💯 #RHOLagos pic.twitter.com/7pGqY4qqa3

— VillageGirl_Lucenda (@LucendaKeletso) April 7, 2022
#RHOLagos PINK CARPET LOOK 💗 @ShowmaxNG pic.twitter.com/uzUoYJyqRp

— IG: Thuto.m (@Thuto__m) April 7, 2022