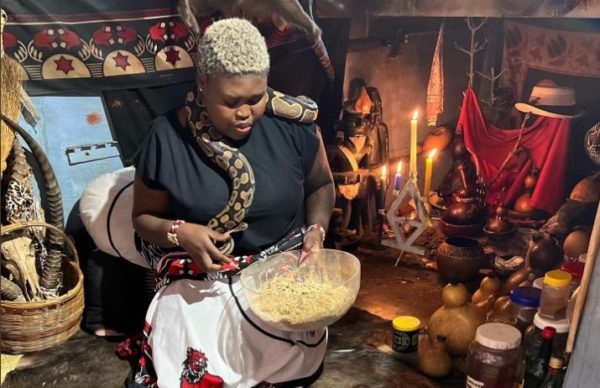 Gogo Maweni is spotted working in her shrine and it's triggered lots of netizens.
Photos of the sangoma at her shrine surfaced on social media, and lots of people have flooded the post with different reactions and speculations.
Over the past few weeks, the TV star made headlines for different reasons.
A disturbing video of her former husband, SK Khoza surfaced on the internet and the actor was seen misbehaving; reacting to the video, many assumed Maweni used a charm on her erstwhile lover, hence he's suffering from mental instability.
Though, she dismissed the claims to be false.
Looking at photos of her shrine, a hat that is similar to Khoza's hat was spotted; a snake was wrapped on her body and many other fetish things were seen in the shrine.
Check out reactions below:
Ai Can't be pic.twitter.com/SO5awEGUSx

— Maseroka Hutchi (@ProudlyMaseroka) April 15, 2022
The whole Boeing 747 bro 💀 pic.twitter.com/SW4x3sodCb

— 🃏 (@Dominic27i) April 15, 2022
Also why is that nail scaring me, I'm also not fighting 😭

— Mrs Trevor Noah (@Tholamdl) April 15, 2022
Ah Ho ka nyewa straight 🤣🤣🤣 pic.twitter.com/jPPBCmxZw4

— Kolojane D Mahola (@d_mahola) April 15, 2022
Cheese…

— TheBoyNextDoor 😜 (@kwaffs) April 15, 2022