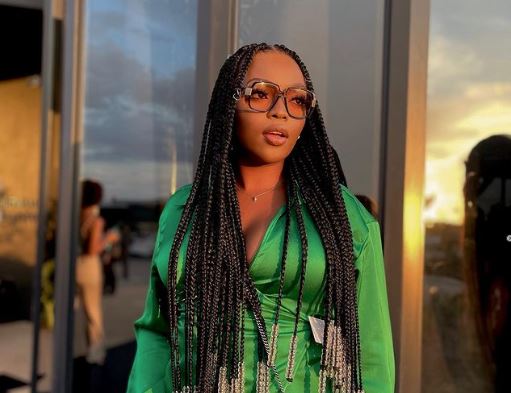 Photo of Kay Yarms's boyfriend has surfaced on social media and it's made her trend as the photo got people talking.
The habit of celebrities hiding their lovers isn't new, and Kay also belonged to the group as she found joy in keeping her love life private.
A tweep named Musa, who is famously known for dropping gossip and gist on Twitter shared the photo of the YouTuber with her boyfriend whose name is Flacko.
Kay Yarms with her boyfriend Flacko. pic.twitter.com/eQlUarTovk

— Musa Khawula (@MusaKhawula) April 26, 2022
The unveiling of Kay's lover got tongues wagging because some assumed that she is dating a wealthy businessman.
Check out the reactions below:
Because maan kay yarms is a top tier hun 😭😭 https://t.co/lRkjLoHWCP

— Yo mama (@__Yo__Mama_) April 26, 2022
I honestly thought Kay Yarms was dating someone a bit businessie nyana

— Pink Matter💓🌠 (@nhlanhlangwaqa) April 26, 2022
what musa did to kay yarms is actually wild hey… like thanks for the intel, but damn.

— 𝔯𝔢𝔤𝔤𝔦𝔢 🕷 (@ReggiesDlams) April 26, 2022
Kay Yarms or Kay Sweet potato can do better , phela that flacko ngathi i skrrr skrrr ya se marabastad, she must visit the north west or Kuruman to find handsome young man there who are in her league not nxll yazini im disappointed as her subscriber 💔 pic.twitter.com/5gFvXKa47x

— Dr.STAN_KRUGER🇮🇹 (@krugersville) April 26, 2022
If you follow Kay Yarms you'll know she never made it a secret she always said she doesn't do South African men..

— Mamello (@mamello0o) April 26, 2022
Not y'all wanting Kay Yarms to date itype zenu, y'all don't even date your types too! Haibo

— Lesego Kekana (@lesego04081) April 26, 2022