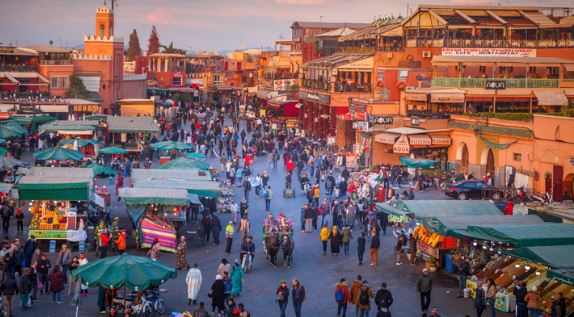 Markets are popping up all over the country, as it appears that South Africans are craving a more authentic shopping experience than what malls have to offer.
These ten markets are the best of the bunch when it comes to spending time outdoors and soaking in the bustling atmospheres.
1. 1Fox Market Shed, Johannesburg
1Fox Market Shed in Ferreiras Dorp, Johannesburg is open every weekend and on public holidays, and it houses an evening market on the last Friday of each month. Hosted in a massive old shed, arts and crafts, live music, and fantastic food fill this lively market. It's the ideal stop for those who are hungry, and remember to keep an eye out for themed music and food events.
2. The Bay Harbour Market, Hout Bay
The Bay Harbour Market is set in an old-fish factory in the Hout Bay Harbour. Open each Friday as a night market from 5pm-9pm and Saturdays and Sundays from 9:30am-4pm, visitors can look forward to live music, a large variety of beer on tap, and more than 100 traders and food stalls that sell everything from crafts to fashion.
3. Fourways Farmer's Market, Johannesburg
Open every Sunday from 9am-4pm, going to this popular market is the ideal way to spend the last day of the weekend. Pop in early to grab a tasty breakfast and then stock up on your weekly fruit and veg. The market stocks a large variety of organically-grown vegetables, local cheeses, cured meats, baked goods, jams, and preserves as well as jewellery and other crafts.
4. Hermanuspietersfontein Food & Wine Market, Hermanus
When visiting the quaint-seaside town of Hermanus, make sure to pop into the Hermanuspietersfontein Food & Wine Market. Famous for their wines, Hermanuspietersfontein puts together an exciting market that brings out the foodie in everyone. From freshly-brewed coffee to gourmet food and delicatessen, and even fresh oysters, visitors will find all of this and more at this weekend market.
5. Irene Village Market, Irene
The Irene Village Market has been trading since 1989, and it takes place every first and last Saturday of the month. Located at the Big Red Barn just outside of Pretoria, the market has established itself as the go-to arts and crafts market in Gauteng. They're dog friendly and vendors sell a variety of homemade goods, from preserves to confectionery, as well as jewellery, decor items, and of course, food.
6. KAMERS/Makers, Countrywide
KAMERS/Makers takes place in Johannesburg, Cape Town, Stellenbosch, and Irene and is one of the biggest markets in the country. Visitors flock from all over to get their hands on beautiful-local products from jewellery and clothing to food and décor items. Spend the morning shopping and then relax in the food court while sipping on local wines, snacking on freshly-made food, and listening to live-local music.
7. The Maboneng Precinct
This artsy market takes place every Sunday in The Maboneng Precinct, a gentrified neighbourhood in the heart of Johannesburg. The market's main focus is local foods and design, and it comes alive as the city's creative communities fill the space each weekend.
8. The Mojo Market, Sea Point
The latest addition to the Cape Town market scene is the oh so trendy Mojo Market. Filled with beautiful, locally-produced items—from shoes and clothing to food—this space has become a bustling meeting place. The indoor market is open seven days a week and includes 45 retail stalls, a fresh goods section, and 25 food vendors.
9. Neigbourgoods Market, Johannesburg and Cape Town
The Neighbourgoods Market is one of the most-popular
markets
in the country, and possibly the hippest hangout of all. The popular market is on every Saturday in Braamfontein, Johannesburg and The Old Biscuit Mill in Cape Town. Get there early to enjoy some of the many different breakfast foods on offer, and then browse the quirky designer stalls.
10. The Linden Market, Johannesburg
The Linden Market, which started as a small pop up in 2015, has grown into one of the largest
markets
in Johannesburg. The market is still hosted on a pop-up basis, and they have moved to the Johannesburg Botanical Gardens where guests can enjoy the beautiful scenery while listening to local music, taste delicious food, and shop for unique products.