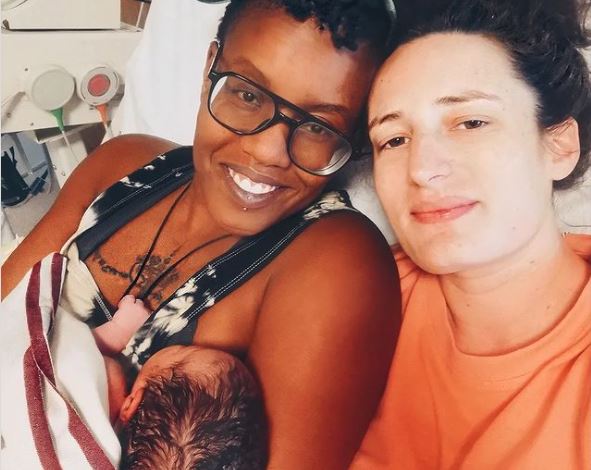 Latoya Nontokozo Buthelezi famously known as Toya Delazy welcomed her first bundle of joy with her wife, Alisson Chaig on the 2oth of May.
Taking to social media, the UK-based musician shared a photo of her wife and her baby and penned down a lengthy note about their baby, Kali.
"And then, we were 3. Bags were packed, Uber at the door. After all your mommies squats, raspberry leaf teas, meditations and belly rubs, You were finally ready to meet us and see the world on the 20th May 2022, in London E1, where our UK adventure started for your mum and I, 7 years ago," she kicked off her note.
Speaking about their baby's name, Toya said:
"Kali Langa, your name means Strenght in Swahili and Sunshine in Zulu, just like the ray of sun that pierced through the clouds at 17.15, indeed kwakhal' ilanga englandi liguqubele, magically illuminating the whole city as you peaked through, one eye open, ready for this adventure called life."
"You also carry the powerful name of a Hindu goddess, representing Time, the force of nature and divine feminine. You are also born on the day your great⁵ grandfather King Dinizulu ka Cetswayo was officially recognised as King of the zulus by the british government. Baby, you already carry so much history but hold it with pride for it's your birthright. You're so beautiful, I will love you forever, I will protect you with all my strength, and I will be your guide whenever you need me little one. Xxx."
Toya also appreciated her wife.
"Universe, thank you for this gift. Alisson, I love you, thanks for being such an amazing wife, a partner in crime, and now, mum (milk warrior). Kali Langa Chaigneau-Buthelezi, 20/5/22, 3.520kgs, +/- 50cm."