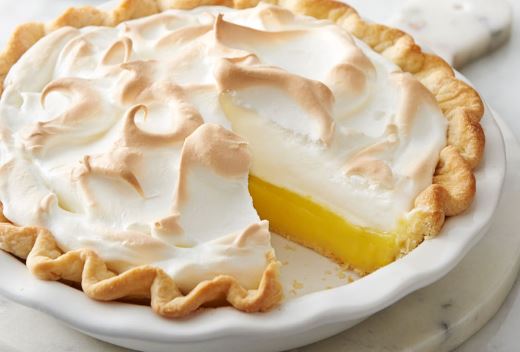 One of the most jaw-dropping and gorgeous desserts has to be lemon meringue pie.
Lemon meringue pie is one of South African's favorite pies. Why do we like this version? Its filling is perfect: not too tart, not too sweet, bursting with lemon flavor.
Below are detailed recipe on how to make this pie.
Ingredients
Base
200g tennis biscuits
30ml butter — melted
Filling
1 can condensed milk
125ml lemon juice
Lemon — zest only
3 eggs — separated (reserve the whites for the meringue)
Meringue
150ml castor sugar
1 pinch salt
3 egg whites
Method:
Preheat the oven to 180°C.
For the base:
Using a food processor, pulse the tennis biscuits until they are crumbs. Add in the melted butter and pulse again until everything is combined. Push the biscuit base into a 23cm pie dish and use the back of a spoon to even it out. Place in the fridge to firm up.
For the lemon filling:
Mix the condensed milk, lemon juice, zest and the 3 egg yolks. Set aside the whites for the meringue. Pour the lemon mixture into the biscuit base and set aside.
For the meringue:
In a clean, dry glass bowl whisk the egg whites with a pinch of salt until they reach firm peaks. Gradually add in the caster sugar one tablespoon at a time whisking between additions.  The mixture should be stiff and glossy. Don't overbeat. Spoon or pipe the meringue onto the filing.
Bake for 10 – 15 minutes or until the filling is set and the meringue is browning slightly. Serve cool.