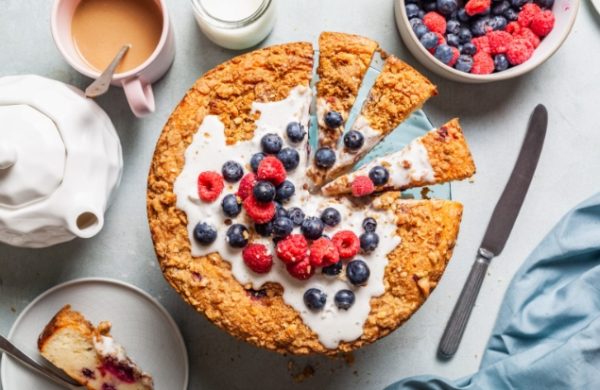 Granola and yoghurt are two combinations that are so healthy and delicious.They can be eaten with other fruits like strawberries, grapes, diced apples and whatever choice of fruits you want.

The combination is a good source of Calcium, improves sleep benefits, an excellent source of fibre and protein.

Below is the best recipe to make yoghurt granola cake at home.

Ingredients
2/3 cup Butter
1/3 cup Granola
1/3 cup Flaked coconut
1/3 cup Brown Sugar
½ tbsp Baking soda
½ tsp All-purpose flour
1 Egg
1/3 cup Chopped walnuts
½ tbsp Salt
¾ Granulated sugar
¾ Greek yoghurt
1 ½ tbsp Grated Orange Zest
1 tbsp Vanilla
Method
Preheat the oven to 3500. Put half butter into a 9-inch round cake pan and place in the oven for 5 minutes until butter melts. Remove pan and set aside.
Pour coconut, brown sugar, granola and walnuts into a bowl and stir thoroughly, then set aside.
In a medium bowl, stir the flour, baking soda and salt. Melt the remaining butter and allow it to cool a little. In a large bowl, combine the melted butter, egg, granulated sugar, yoghurt, orange zest and vanilla and stir until smooth. Stir in flour mixture until well combined. Gently mix batter into the granola mix and spread into the pan.
Bake for 30 minutes (or use a toothpick to check for moisture), remove and cool on a wire rack for 10 minutes. Loosen cake from the sides of the pan and put it onto a serving plate.
Serve with a glass of your favourite drink.