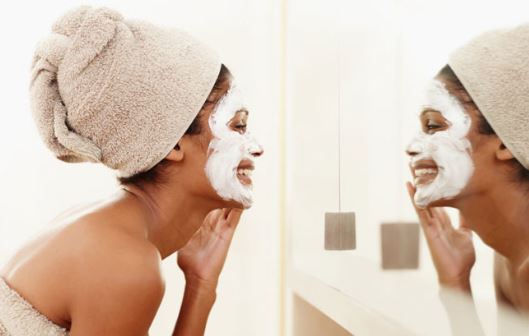 Applying a face mask is one of the best ways to pamper your skin.
Not only does it give you an excuse to kick back and relax, but masks also have plenty of benefits for your skin.
Masks have been all the rage and in recent years, they have evolved from the clays and creams of the past. We are now venturing into enzymes, charcoal, and sheet masks.
Let us explore everything you need to know about facial masks.
How do face masks benefit the skin?
Facemasks contain concentrated skincare ingredients. When you apply a mask to your skin and leave it on for the recommended amount of time, the goodness of the ingredients seeps into your skin. A good mask will leave you with a smooth glow.
Masks are especially effective in refining enlarged pores. When you do not exfoliate your skin, dead skin cells, makeup residue, and dirt can accumulate in your pores – making them more conspicuous. It can also lead to pimples and zits. Masks help slough off dead skin cells and accumulated dirt from your pores for a smoother look.
Other than refining your pores, masks also help maintain your skin's natural pH levels. This helps your other skincare products to absorb and work more effectively. In addition, the right mask will also hydrate your skin and soothe any irritations or inflammation.
Different types of masks
There are different kinds of masks to choose from. Here are some of the most common types you are likely to find in your drugstore:
Peel-off masks: As the name suggests, this kind of mask does not require rinsing off. All you need is to apply the mask and peel it off your skin after the required duration. Just make sure to be gentle when peeling off the mask. These masks are especially great for those with acne-prone skin as they help pull off the dirt from the pores. Peel-off masks are also advisable if you have oily skin.
Clay masks: Before sheet masks came into the scene, there were clay masks. Clay helps detoxify the skin and draw out impurities and oils from the surface of the skin. Clay is also highly effective in unclogging pores and decongesting your skin for an instantly glowing complexion pick-me-up. Clay masks are recommendable for those with oily or acne-prone skin types. Clay absorbs the excess oil without drying out the skin.
Sheet masks: Commonly associated with Korean skincare, these masks are all the rage. They come as an ingredient-infused sheet which you apply on your skin for several minutes. They are easy to use. If you do not like dealing with messy masks, you should definitely try sheet masks. They are travel friendly and come in rinse and no-rinse options. Hydrating sheet masks are also suitable for those with dry skin.
Bubble masks: Rather new to the beauty world, these masks contain carbonated bubbles, which react with oxygen in the skin to gently exfoliate the skin. If you have sensitive skin, bubble masks are your best bet.
Anti-aging masks: These types of masks are usually loaded with alpha-hydroxy acids (AHAs) which help diminish early signs of aging. They come in different formulations that are known to give you younger, youthful, firm skin. They contain key ingredients that help stimulate and boost the production of collagen in the skin, which is responsible for keeping the skin looking plump and firm.
Overnight masks: Just like the name suggests, overnight masks are meant to be applied just before bed and left on until morning. They are usually no-rinse, which means you do not have to wash your face to remove the mask. These masks are great for all skin types – just make sure you select a formulation with the right ingredients for your needs. If you are looking for anti-aging benefits, look for formulations featuring ingredients such as Gluconolactone and Alpha-glucan yeast. Massage the overnight mask into freshly cleansed skin at bedtime.
When and how to use a face mask
Regular use of face masks will greatly benefit your skin. That said, you have to be careful not to irritate your skin by applying masks too often. A good rule of thumb is to use masks one to three times a week.
Before applying a face mask, always cleanse and exfoliate your skin with a gentle exfoliating cleanser first. That opens and unclogs pores, allowing your face mask to penetrate deeper and extract dirt, bacteria, and blackheads.
To maximise the effectiveness of your mask, try steaming your skin beforehand, which also helps open up pores. You can do so by taking a hot shower, using a facial steamer, or placing a hot cloth over your face for a few seconds.
When buying a mask, read the ingredients carefully and select what your skin needs. Always follow the instructions on the package for the best results. After removing the mask, apply a lightweight moisturise.