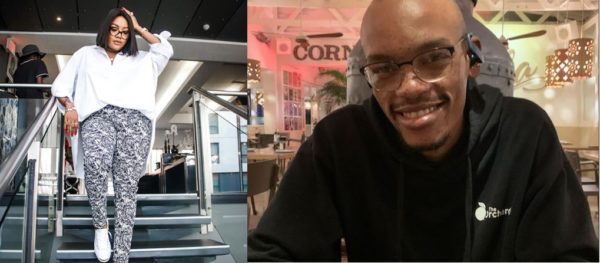 Lerato Sengadi went off the line with Nota Baloyi and it seems like this is just the beginning of their brawl.
It all started when Nota took to his Twitter yesterday to share his thoughts about single mothers celebrating Father's Day.
"Father's Day is father's day. Single mother's cut the BS, you've had your day and you choose to be single mothers. It's not a badge of honour. Just admit defeat that you're impossible to live with. Men are simple. if you can't keep one happy shame on you," he wrote.
It seems like the opinion did not sit well with so many most especially Lerato who decided to blast him.
Reacting to this, Lerato hit back at Nota calling him patriarchal and a misogynist.
"The day Leano is back in my life I could be a single mother. So does your statement apply to women like me too?! Your statement is sexist, patriarchal, laced with disdain and disgust and misogynistic," she wrote.
The pair continued hurling insults at each other.
See tweet below:
Controversial at our expense is shocking!!!
The day Leano is back in my life I could possibly be a single Mother…. so does ur statement apply to women like me too?!

Ur statement is sexist, patriarchal, laced with disdain & disgust & misogynistic!

— Lerato Motho Sengadi (@Leratolicious) June 6, 2022
Nota, nna u don't scare me! 🤣🤣🤣

I said what I said! And what I'm not gonna do is entertain masepa ur speaking. U have my number, I can even drop u my location & we can have this discussion in person.

Nna I won't be bullied by u!!! Nagana fela!!! https://t.co/HN1E5rhcZt

— Lerato Motho Sengadi (@Leratolicious) June 6, 2022
A whole 26 seconds of hollering like a Fish Wife!!!! 🤣🤣🤣🤣

Bullshit aside, ur an asshole!!

Now lemme run away from my bills and look through my 180k bag for my power bank.

— Lerato Motho Sengadi (@Leratolicious) June 6, 2022
Imagine having someone else's husband keeping tabs on what handbags u carry?! And still having energy to go online & check how much it costs?!

Imagine the same person who claims to not give a damn behaving like they have a spreadsheet of ur bills?!Ungenaphi?! Yhu! 🤣🤣🤣 pic.twitter.com/LZy9QabaWw

— Lerato Motho Sengadi (@Leratolicious) June 6, 2022
Bathong Nota! 🤣🤣🤣🤣
You really dug that far on my Instagram page to screen shot something and send it to me when u can just pick up this convo with the legal department ya my former client at Pernod Ricard! I can text u their email address.

Also ain't dis u? https://t.co/iTTfl2wIZI pic.twitter.com/LSKZg8rrFr

— Lerato Motho Sengadi (@Leratolicious) June 6, 2022